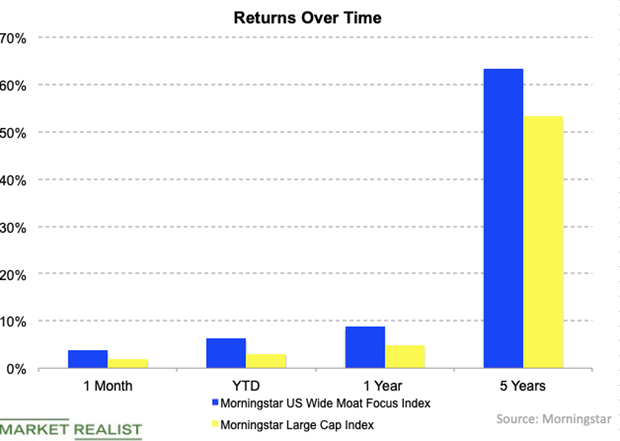 Moat Stocks Continue to Outperform Broader Markets
By VanEck

Dec. 5 2018, Updated 11:10 a.m. ET
VanEck
The Morningstar® Wide Moat Focus IndexSM (MWMFTR, or "U.S. Moat Index") displayed strength in October relative to U.S. large cap stocks as represented by the Morningstar® US Large Cap IndexSM. The October selloff across U.S. stocks, particularly pronounced in the tech sector, wiped out a significant portion of U.S. market gains thus far in 2018. Consumer staples and utilities stocks were the only U.S. large cap sectors to post positive returns in October.
The U.S. Moat Index displayed resilience, rather than reliance on tech, and finished ahead of U.S. large cap stocks in October and for the year-to-date period.
Article continues below advertisement
Market Realist
The Morningstar US Wide Moat Focus Index continued to perform better than the US market in November. Wide moat stocks have consistently beaten regular stocks over time, as the graph above shows.
The Morningstar US Wide Moat Focus Index has risen over 63% in the last five years, while the Morningstar US Large Cap Index has risen over 53%. Meanwhile, the broader S&P 500 Index has climbed 51% in that timeframe. You can get exposure to moat stocks through the VanEck Vectors Morningstar Wide Moat ETF (MOAT), which tracks the Morningstar US Wide Moat Focus Index.
Moat stocks are those that have some sort of a sustained advantage over their competitors. Wide moat means that the degree of that advantage is higher. Hence, intuitively, wide moat stocks would outperform broader markets in the long run, which they have, as the graph suggests.
Additionally, the index has 19% exposure to consumer staples, which has helped it beat the broader markets this year. Typically, low beta sectors such as staples and utilities outperform in risk-off scenarios. We'll discuss more about the index's sector allocation in the next article.