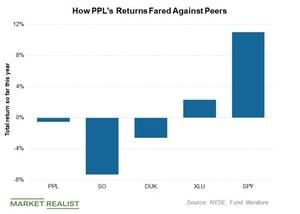 How PPL's Returns Fared Compared to Its Peers in 2018
Total returns
PPL (PPL), the top-yielding stock among the S&P 500 Utilities, has underperformed its peers in terms of total returns in 2018. PPL's total returns were -1%, while broader utilities (XLU) have returned more than 2% year-to-date. NextEra Energy (NEE) has returned 10% during the same period. Total returns consider the dividend payments and stock appreciation during a particular period. So far, broader markets have returned 11% in 2018.
PPL paid a quarterly dividend of $0.41 per share, which is annualized dividend of $1.64 per share for 2018. The dividend marks nearly a 4% increase compared to the company's dividends in 2017.
Duke Energy (DUK) and Southern Company (SO) have returned -7% and -3% in 2018.
Southern Company stock fell after its power plant issues reemerged. The stock has fallen more than 12% since its last earnings announcement in August. To learn more, read Southern Company Stock Remains Weak amid Vogtle Worries.
Article continues below advertisement