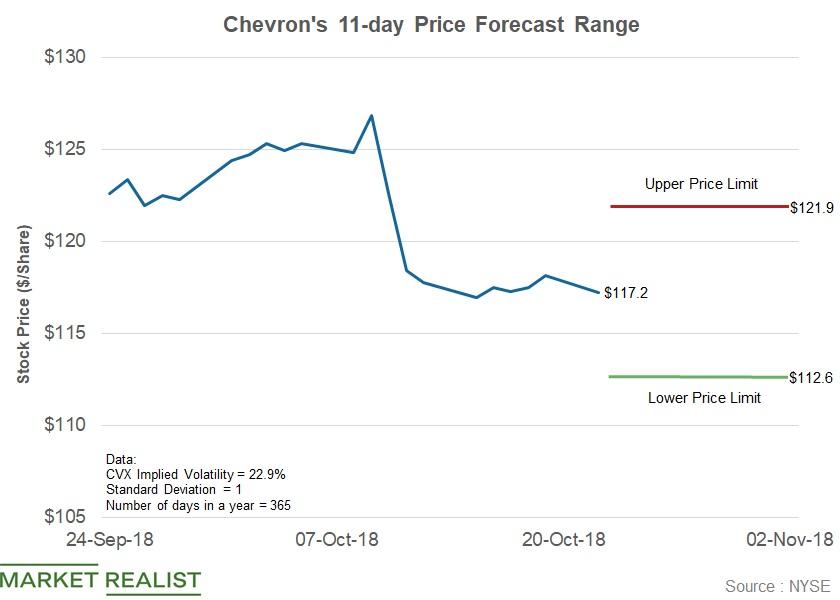 Chevron's Implied Volatility and Price Range
By Maitali Ramkumar

Oct. 24 2018, Updated 2:40 p.m. ET
Implied volatility in Chevron
In this part, we'll discuss Chevron's (CVX) stock price forecast, based on its implied volatility, for the 11-day period until its earnings. The forecast will be based on Chevron's current implied volatility. The company is expected to post its third-quarter earnings on November 2.
The implied volatility in Chevron has risen by 6.3 percentage points since September 24 to 22.9%. During the same period, Chevron stock has fallen 4.4%.
Article continues below advertisement
Expected price range
Considering Chevron's implied volatility of 22.9% and assuming a normal distribution of prices (bell curve model) and standard deviation of one (with a probability of 68.2%), Chevron's stock price could close between $121.9 per share and $112.6 per share in the 11-day period ending on November 2.
Peers' implied volatility
The implied volatility in PetroChina (PTR) has increased by 2.0 percentage points on September 24 to 30.4%. The implied volatilities in YPF (YPF) and ENI (E) have risen by 9.2 percentage points and 1.8 percentage points, respectively, during the same period. Currently, YPF and ENI's implied volatilities are 53.0% and 22.6%, respectively.
If we consider the companies' stock prices, PetroChina, YPF, and ENI have declined 1.6%, 14.5%, and 8.3%, respectively, since September 24. In the past month, these stocks' implied volatilities and stock prices have moved inversely.
Next, we'll discuss how analysts rate Chevron before its third-quarter earnings.