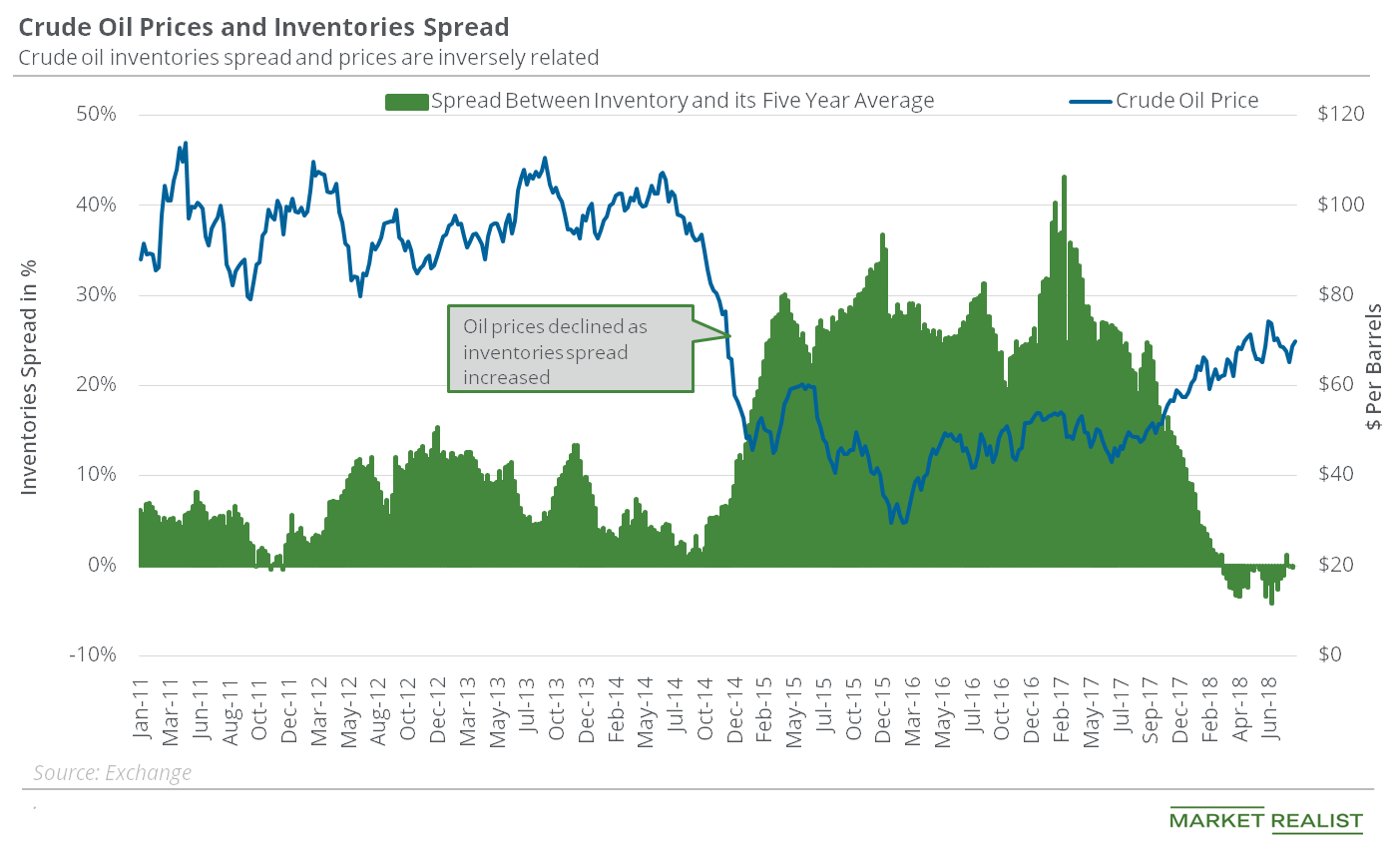 Why Inventory Data Might Boost Oil Prices
Oil inventories and their five-year average
In the week ended August 31, 2018, US crude oil inventories were almost on par with their five-year average, the same as the previous week.
The difference is called the inventories spread. Since the week ended August 17, 2018, US crude oil inventories have been near their five-year average. Oil prices and the inventories spread usually move inversely, as you can see in the above chart. If the inventories spread expands into negative territory, it could support oil prices in the coming weeks.
Article continues below advertisement
Inventories spread, oil prices, and energy stocks
Since the release of EIA (U.S. Energy Information Administration) data on September 6, US crude oil October futures have fallen 0.3%. Although crude oil inventories remained at their five-year average, the surprise build in gasoline inventories might be behind the fall in US crude oil prices. Between September 6 and September 10, 2018, oil-weighted stocks Diamondback Energy (FANG), Oasis Petroleum (OAS), and California Resources (CRC) fell 2.1%, 2.3%, and 3.4%, respectively, and underperformed their peers.
Since September 6, 2018, the S&P 500 Index has been unchanged, while the Dow Jones Industrial Average fell 0.5%. The sentiments across the oil and equity markets are often interrelated.
Fall in inventory levels
On September 12, 2018, the EIA is scheduled to announce its US crude oil inventory data for the week ended September 7, 2018. A Reuters poll indicated a 0.75 MMbbl fall in oil inventories. If the EIA data matches the poll, then the inventories spread will be at -1.4%, a bullish factor for oil prices.