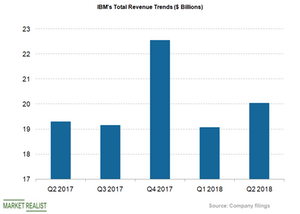 Can IBM's Blockchain Retain Its Market Share?
Implementation of strong technology driving blockchain growth
IBM (IBM) has witnessed strong growth in its blockchain technology, driven by the higher adoption of the platform by financial institutions and retailers. The company launched its blockchain application, which uses the Hyperledger platform, in the third quarter of 2017.
IBM's blockchain, which is powered by its IBM Z mainframe and secure cloud platform, has been instrumental in helping boost the company's business by winning large contracts. Walmart (WMT), Kroger (KR), and Unilever (UN) are among the major users of IBM's blockchain platform. The company exited the second quarter with nearly 60 active blockchain networks. It added ~25 more networks between the fourth quarter of 2017 and the second quarter.
Article continues below advertisement
Article continues below advertisement
The overall blockchain market opportunity
According to a report by the IDC, total spending on the blockchain platform is expected to climb by 122.0% to $2.1 billion. The overall investment on blockchain from 2016 to 2021 is expected to expand at a CAGR (compound annual growth rate) of 81.2% to reach $9.7 billion.
This robust growth in blockchain spending has encouraged IBM to enhance its Hyperledger platform with new technology. WinterGreen Research noted that IBM dominated the blockchain market with a market share of 32.0% in 2017. The graph above shows IBM's overall revenue trend in the last five quarters.
To tap this existing opportunity, IBM is investing heavily in blockchain and other new technologies. In July, IBM strengthened its blockchain platform with the launch of LedgerConnect, which is specifically designed to serve financial institutions.
Nine financial institutions, including Barclays (BCS) and Citigroup (C), have embraced the new platform within their systems. This comprises the first live blockchain-based bank-to-bank trading platform. So, the launch of these new services may support IBM's top-line growth going forward.