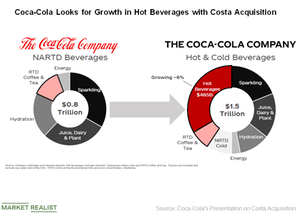 Can Coca-Cola and Its Peers Benefit from Strategic Acquisitions?
Major deals in 2018
The nonalcoholic beverage space saw some major deals in 2018. Dr Pepper Snapple merged with Keurig Green Mountain to form Keurig Dr Pepper (KDP). On September 18, Coca-Cola (KO) announced the acquisition of kombucha maker Organic & Raw Trading Company. In August, Coca-Cola announced the acquisition of Costa Coffee from Britain's Whitbread for $5.1 billion and the purchase of a minority stake in BodyArmor. In August, PepsiCo (PEP) announced the purchase of at-home beverage solutions provider SodaStream for $3.2 billion.
Article continues below advertisement
Will these deals boost revenues?
With consumers moving away from sugary soda beverages, Coca-Cola and its peers have been looking for expansion in growth areas such as bottled water, ready-to-drink coffee and tea, and functional beverages.
Coca-Cola's acquisition of Costa will help it capture growth prospects in the hot beverages space. Costa is a well-established brand with a presence in more than 30 markets. Costa's ~3,800 retail stores will help Coca-Cola acquire new consumers in the hot beverages market. Coca-Cola can also leverage Costa's retail presence to offer other beverage solutions to customers. Its strong distribution network and marketing capabilities will help to further expand the Costa brand in the ready-to-drink market as well as the at-home consumption space.
Coca-Cola's purchase of the MOJO kombucha line could boost its presence in the healthier beverages space. The acquisition of BodyArmor is expected to strengthen Coca-Cola's position in the sports drink market.
PepsiCo's acquisition of SodaStream could help it expand beyond the conventional soda beverages category to better options such as sparkling water. PepsiCo's extensive distribution network could help expand the SodaStream brand into new territories.
The merger of Dr Pepper Snapple, the third-largest soda drink maker in the United States, and Keurig Green Mountain has intensified competition in the nonalcoholic beverage market. The newly formed Keurig Dr Pepper, with an estimated combined annual revenue of ~$11 billion, has a portfolio of ~125 owned, licensed, and partner brands.
In addition to making strategic deals, nonalcoholic beverage companies are trying to boost their revenues through innovation in flavor and packaging and by aggressive marketing. The key focus is on offering low-sugar or no-sugar options with better ingredients.
In the next part of this series, we'll look at the revenue expectations for nonalcoholic beverage companies.