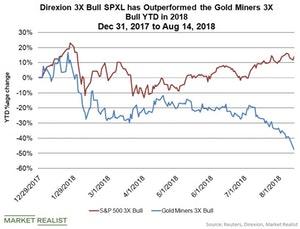 Is Gold Losing Its Value as a Safe-Haven Asset?
By Direxion

Aug. 31 2018, Updated 10:45 a.m. ET
Direxion
Are there any goldbugs left?
Gold is down only 8% this year, but it's off almost 13% from its high. For some reason, it has lost its allure as a hedge to inflation and global turmoil. The main culprit may just be the US dollar, which is only back to where it was in mid-2017. It's tough to say why gold lost its glitter as a hedge—maybe investors are looking at other alternatives like bitcoin as a store of value in uncertain times.
And keep in mind, other than the United States (at number 3), the top three consumers of gold are India, China, and Saudi Arabia. And we know that two out of those three are having a tough few months.
Article continues below advertisement
We can't be certain of gold's place anymore—or maybe this is just an anomaly—but either way, Direxion has the ETF for you. NUGT (3X Bull Gold Miners) and DUST (3X Bear Gold Miners) are interesting after these drastic moves, depending on whether you are value- or momentum-driven. Look at the massive 50%+ divergence since July 1.
Market Realist
Has gold lost its shine?
Gold has always been investors' favorite in times of market uncertainty. Since gold has a low-to-negative correlation with other asset classes, it's mostly unaffected during market distress. That's why it has earned its reputation as a safe-haven asset. Usually, a spike in the volatility index (VIX) affects gold prices positively, as gold tends to perform better when the market tumbles. However, this year, the performance has taken a different turn. Despite global trade concerns and market uncertainty, gold prices haven't performed well this year.
Article continues below advertisement
In general, when the dollar strengthens, gold prices decline as the metal becomes more expensive in other currencies, hampering demand. The chart above shows the movements of gold prices versus the US dollar index. From December 30, 2016, to August 20, 2018, gold prices and the dollar have shown a correlation of -0.79. This level implies that they move in different directions, as the chart above shows. While the dollar index is up 4.1% year-to-date, gold prices—as measured by the SPDR Gold Shares (GLD)—are down 9% year-to-date as of August 20.
Various other factors affect gold prices. In its "Mid-Year Outlook 2018" report, the World Gold Council outlined three trends that could drive gold's performance in the second half of 2018. The factors include trade wars and their impact on currencies, uneven global economic growth, rising inflation, and an inverted yield curve. China's expanding economy and India's festive season were also expected to drive gold's performance. However, the situations in both countries don't look positive currently.
Either way, Direxion offers you leveraged ETFs like the 3X Bull Gold Miners (NUGT) and 3X Bear Gold Miners (DUST) to keep you invested in gold in this market.