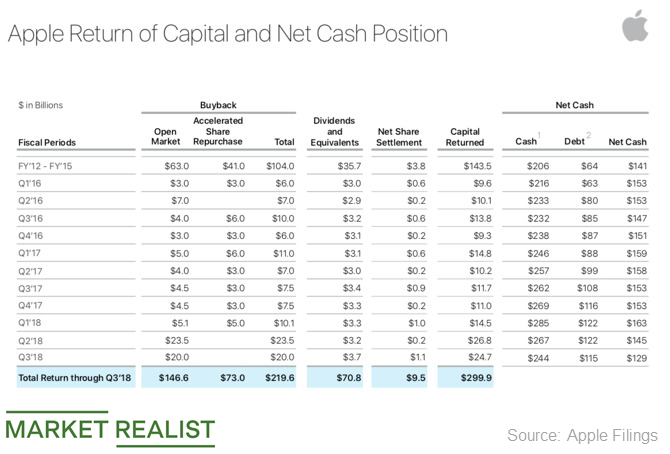 A Look at Apple's Shareholder Returns
By Adam Rogers

Aug. 13 2018, Updated 7:31 a.m. ET
Apple has returned almost $300 billion since fiscal 2012
Apple (AAPL) returned close to $300 billion to its shareholders between fiscal 2012 and the fiscal third quarter. The company returned $143.5 billion between fiscal 2012 and fiscal 2015. In fiscal 2016, Apple repurchased shares worth $29 billion and paid dividends amounting to $12.2 billion to its shareholders.
In fiscal 2017, Apple repurchased shares worth $33 billion and paid $12.8 billion in dividends, while in the first nine months of fiscal 2018, Apple repurchased shares worth $53.6 billion and paid $10.2 billion in dividends.
Article continues below advertisement
In April, there were reports that the iPhone X might not be a successful device and that this would negatively affect Apple's revenue. Apple stock fell from $178.24 on April 17 to $162.32 on April 27. Apple was, however, unfazed by these reports and bought back shares worth $20 billion in the fiscal third quarter. CEO Tim Cook has repeatedly stated that supply chain estimates do not concern the company.
Dividend yield
Apple has a cash balance of $71 billion, which it leverages for stock buybacks and dividend payments. Apple has a dividend yield of 1.4%, amounting to an annualized payout of $2.92 per share and a dividend payout ratio of 25%. Apple's dividend yield has increased at a compound annual growth rate of 10.1% over the last three years.
The other stocks that are part of the FAANG group, namely Facebook (FB), Amazon (AMZN), Netflix (NFLX), and Google (GOOG), do not pay any dividends to shareholders.