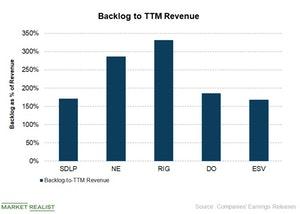 Transocean Has the Highest Backlog among Its Peers
Article focus
In the last part of this series, we saw which offshore drillers had the highest and lowest falls in their backlogs. In this article, we'll compare offshore drillers' backlogs versus their revenues.
Why do we compare backlog to revenue? Offshore drilling companies differ in size. Some companies have their backlogs in millions while some are in billions. This difference makes it hard to compare companies, so it's better to compare backlog as a percentage of revenue.
Article continues below advertisement
Best performer: Backlog-to-revenue ratio
To compare backlogs across companies, we've calculated the total backlog reported at the end of the first quarter as a percentage of TTM (trailing-12-month) revenue.
Transocean (RIG) has a few contracts that stretch beyond 2025. As you can see in the above chart, Transocean has the highest backlog-to-TTM revenue of 322%. Next comes Noble Corporation (NE), which has the second-highest ratio. At the end of the first quarter, Noble Corporation's backlog-to-TTM revenue stood at 287%. NE's contracts extend to 2023. The company's backlog is divided into 63% drillships and 37% jackups.
Worst performer: Backlog-to-revenue ratio
Others
Diamond Offshore (DO) has a backlog-to-TTM revenue ratio of 186%.