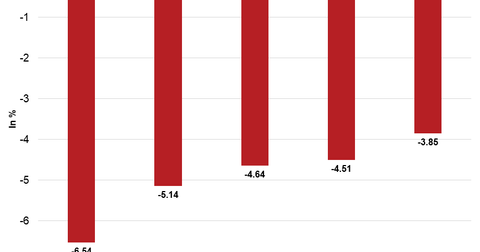 S&P 500's Top Losses: Northrop Grumman Fell 6.54%
By Val Kensington

Updated
Top losses
The S&P 500's top losses on July 25 were:
Article continues below advertisement
Northrop Grumman
Northrop Grumman, which is an American global aerospace and defense technology company, was the S&P 500's top loss on July 25. After closing higher for two weeks, Northrop Grumman started this week on a weaker note and declined in the first two trading days. On Wednesday, Northrop Grumman opened the day lower and declined to almost nine-month low price levels.
The selling pressure in Northrop Grumman increased on Wednesday despite the release of the stronger-than-expected second-quarter earnings report. According to management, the net income in the second quarter was $689 million with an EPS of $3.93—compared to the net income of $555 million and an EPS of $3.16 recorded in the same period last year. The EPS is higher than analysts' forecast of $3.85.
The revenues rose 10% YoY in the second quarter to $7.1 billion. The 11% revenue growth from aerospace systems boosted the company's second-quarter revenues. The earnings from Innovation Systems, which Northrop Grumman acquired, also supported the higher revenues. The guidance for the fiscal EPS was upgraded from $16.20–$16.45 to $16.60–$16.85. Management expects fiscal sales of $30 billion.
However, the stock declined as investors used the strong earnings and guidance as an opportunity to take the profit. Northrop Grumman declined 6.54% on July 25 and closed the day at $295.50—the lowest daily close since the beginning of November 2017. Northrop Grumman is part of the S&P 500 industrials sector, which gained 1.33% on Wednesday.
Next, we'll discuss how the US Dollar Index and Treasury yields performed in the early hours on July 26.