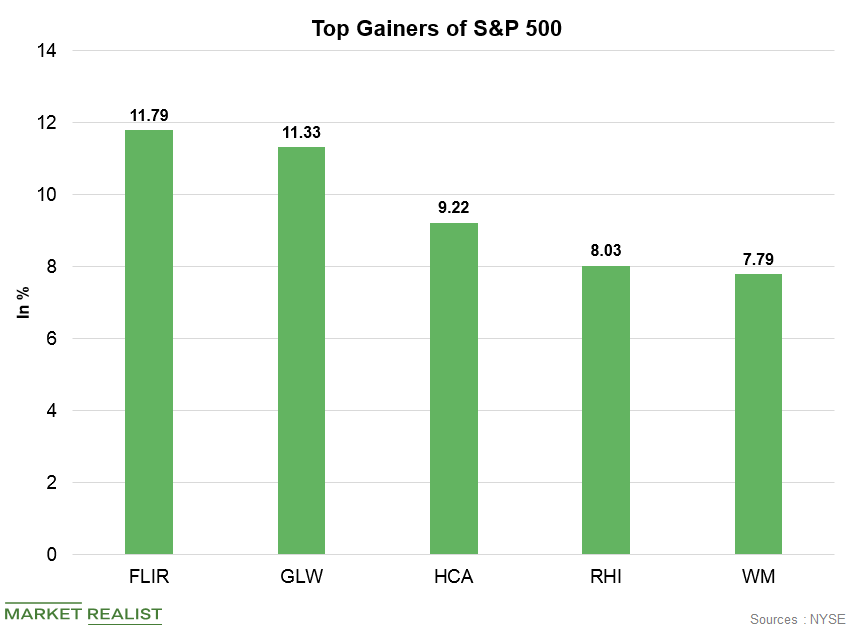 S&P 500's Top Gainers: FLIR Systems Rose to Record Highs
<p>FLIR Systems was the S&#038;P 500's top gainer on July 25. FLIR Systems opened higher on July 25 and rose to record high price levels.</p>
Top gainers
The S&P 500's top gainers on July 25 were:
Article continues below advertisement
Article continues below advertisement
FLIR Systems
FLIR Systems, which is the world leader in designing, manufacturing, and marketing thermal imaging infrared cameras, was the S&P 500's top gainer on July 25. After gaining for two consecutive trading weeks, FLIR Systems started this week on a weaker note. FLIR Systems declined in the first two trading days this week. However, FLIR Systems opened higher on July 25 and rose to record high price levels.
Strong second-quarter earnings
The buying pressure in FLIR Systems increased on Wednesday after the release of the stronger-than-expected second-quarter earnings report and upgraded fiscal guidance. According to management, the second-quarter revenues were $452.7 million—higher than analysts' average forecast of $428 million and 4% growth YoY (year-over-year). The industrial revenues and government and defense revenues grew 14.4% and 10.5% YoY, respectively. In contrast, the commercial revenues declined 16.5%.
The non-GAAP EPS in the second quarter was $0.55—higher than analysts' expected non-GAAP EPS of $0.49 and 31% growth YoY. According to CEO Jim Cannon, new business initiatives and a consistent focus on customers resulted in strong earnings in the first two quarters of 2018.
Fiscal guidance
In addition to strong second-quarter results, management upgraded the fiscal guidance. Management expects the fiscal revenues to be $1.78 billion–$1.8 billion. The guidance is higher than the previous range of $1.76 billion–$1.79 billion. The non-GAAP EPS was upgraded from $2.11–$2.16 to $2.17–$2.22.
On July 25, FLIR Systems gained 11.79% and closed the day at $58.59. FLIR Systems is part of the S&P 500 Information Technology sector, which gained 1.5% on Wednesday.
Next, we'll discuss the S&P 500's top losses on July 25.