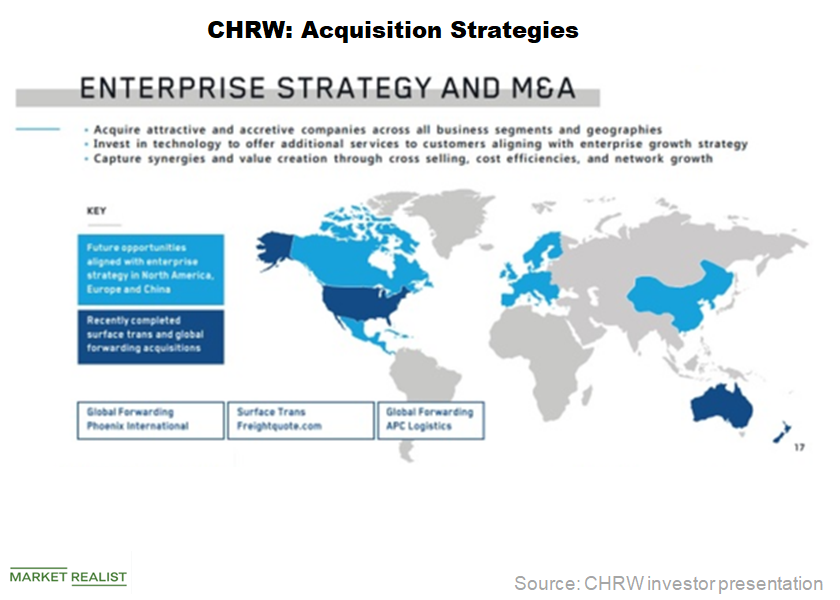 C.H. Robinson: Solid Business Growth through Acquisitions
Post-IPO acquisitions
C.H. Robinson Worldwide (CHRW) went public in 1997. Soon after, the company went on an acquisition spree to further its business interests in new geographies. In many of its acquisitions since 1997, the company has concentrated on acquiring non-asset-based third-party logistics companies.
In 1999, CHRW acquired Norminter, a third-party logistics company based in France. CHRW believed there were further growth opportunities in Europe for multimodal transportation (JBHT) services. It also acquired American Backhaulers that year, a Chicago-based supplier of over-the-road transportation services.
Article continues below advertisement
Article continues below advertisement
2000–2003
For an undisclosed amount in 2000, C.H. Robinson acquired Trans-Consolidated, a third-party less-than-truckload provider that provided temperature-controlled logistics for perishable food items. In 2003, CHRW opened an office in Hong Kong and acquired Frank M. Viet, a German non-asset based third-party logistics company, for an undisclosed amount. Viet had 400 customers at that time across different industries, and the acquisition expanded CHRW's transportation and logistics (IYT) network.
2004–2007
CHRW made a string of acquisitions between 2004 and 2007. In 2004, the company acquired China's Dalian Decheng Shipping Agency and opened seven new offices in the country. In 2005, CHRW acquired FoodSource, FoodSource Procurement, and Epic Roots to expand its sourcing capabilities.
CHRW, involved in fresh produce sourcing from its start, made two more acquisitions in the space in 2005—Germany-based Hirdes and Italy-based Bussini Transport. Both Hirdes and Bussini were in the business of international forwarding.
In 2006, CHRW acquired two more companies—third-party logistics company Payne, Lynch & Associates and Triune Freight & Logistics, which gave CHRW a foothold in India.
2008–2017
In 2008, C.H. Robinson acquired Canada-based Transera International, a project forwarding company. The next year, CHRW acquired another freight forwarding (EXPD) company, UK-based Walker Logistics Overseas, for an undisclosed amount. It also made a string of fresh produce sourcing acquisitions that year, including Florida-based Rosemont Farms and Quality Logistics, and Timco Worldwide.
In 2012, the company expanded its freight forwarding business by acquiring Apreo Logistics and Phoenix International. In 2016, CHRW also acquired APC Logistics, a freight forwarding and customs brokerage (SNDR) company, for approximately $225 million. In 2017, it acquired Milgram & Company, a Canada-based freight forwarding and customs brokerage company, for $50 million. In the next article, we'll discuss CHRW's growth strategy.