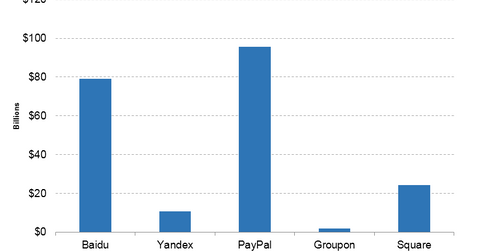 Analyzing Baidu's Fundamentals
By Neha Gupta

Updated
A look at Baidu's enterprise value
In 2017, Baidu (BIDU) had an EV (enterprise value) of $79.1 billion, while Internet peers Yandex (YNDX), PayPal (PYPL), Groupon (GRPN), and Square (SQ) had EVs of $10.8 billion, $95.6 billion, $1.9 billion, and $24.2 billion, respectively. Baidu's TTM (trailing-12-month) EV-to-adjusted EBITDA is 17.6x, and it's expected to have an EV-to-adjusted EBITDA ratio of 18.03x in 2018. Baidu's EBITDA margin in 2017 was 33%.
Its TTM EV-to-sales ratio is 5.8x, and it's expected to have an EV-to-sales ratio of 4.3x this year. Baidu's TTM EV-to-cash flow ratio is 15.9x, and its TTM EV-to-free cash flow ratio is 27.2x.
Article continues below advertisement
Baidu's price multiples
Baidu's book value per share is $56.90, and it's expected to be $64.60 this year. The stock is trading at price-to-book ratio of 4.6x. The company's price-to-sales ratio was 6.4x in 2017, and it's expected to be 5.6x in 2018.
A look at Baidu's debt position
Baidu's balance sheet reflects short- and long-term debt of $1.1 billion and $6.9 billion, respectively, amounting to total debt of $8.1 billion. With total capital of $30.2 billion, its debt-to-capital ratio is 39%.
The company's debt-to-assets, debt-to-equity, and debt-to-EBITDA ratios are 0.19x, 40.62x, and 1.7x, respectively, and its interest coverage ratio is 45.9x. The company has a debt-to-EV ratio of 10%.