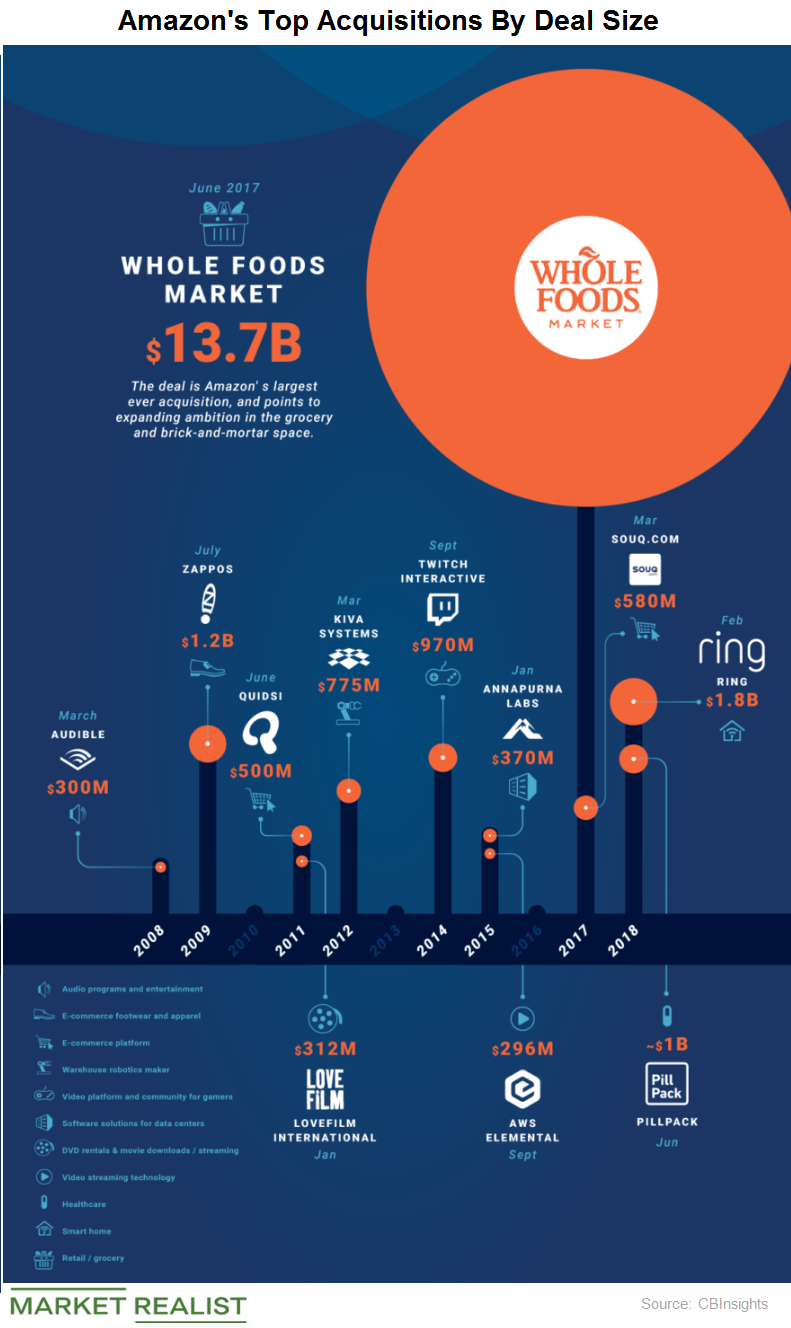 A Look at Amazon's Acquisition Strategy
From conservative to aggressive
Earlier, we discussed Amazon's (AMZN) recent acquisition of PillPack and how other established players in the space view this acquisition.
Lately, Amazon seems to be on an acquisition spree. Considering the pace of its past acquisitions, we can deduce that the company has been a conservative buyer—but this trend seems to have been changing since 2017, when the company made ten acquisitions.
Let's take a look at some of the billion-dollar acquisitions the company has made. Some of its historic mega-acquisitions over the years include the following:
Whole Foods, a grocery chain, for $13.7 billion in 2017—the company's biggest acquisition to date
Zappos, a shoe retailer, for $1.2 billion in 2009
Twitch, an e-sports streaming site, for $970 million in 2014
Ring, a smart home system, for $1.8 billion
Unlike its tech peers, Amazon has been pursuing buyouts in diverse areas.
The above presentation shows Amazon's all-time largest buyouts. Since 2017, three out of the four deals Amazon made were worth more than $1 billion.
Article continues below advertisement
Article continues below advertisement
In early June, SAP (SAP) acquired Coresystems, a customer service software provider powered by AI technology. Oracle (ORCL) announced the acquisition of DataScience.com, an enterprise data platform provider that will boost the company's standing in the AI, big data, and machine learning spaces. Adobe (ADBE) acquired Magento, a prominent player in the e-commerce space.
Unlike its tech peers, Amazon has stuck to only one field but has bought companies in various areas.