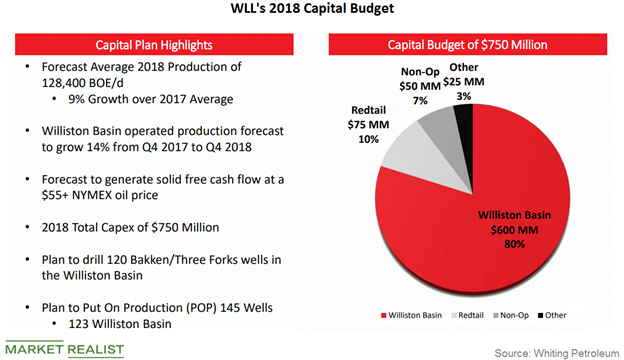 Whiting Petroleum's Capex Plans for 2018
Whiting Petroleum's 2018 capex forecast
Whiting Petroleum's (WLL) 2018 capital expenditure forecast is $750.0 million, compared to its capex of $912.0 million in 2017. Around 80.0% of the company's 2018 capex budget is expected to be spent in the Williston Basin, and 10.0% is expected to be spent on development activities in the Redtail region (DJ Basin).
WLL expects to complete 22 drilled uncompleted (DUC) wells in the region in 2018. In the Williston Basin, the company plans to put on production 123 wells. The Williston Basin is home to the Bakken Shale—one of the biggest shale plays in the United States.
Another 7.0% of WLL's forecast 2018 capex is expected to be spent on non-operated development activities in the Williston Basin, and 3.0% is expected to be dedicated to land and facilities.
WLL's market capitalization is $4.8 billion. Its peer Oasis Petroleum (OAS), which has a similar market capitalization of ~$4.2 billion, has a forecast E&P (exploration and production) capex of $835.0 million versus $836.0 million in 2017.
Newfield Exploration (NFX), which has a higher market cap of $6.0 billion, has forecast a capex budget of $1.3 billion for 2018—the same as its 2017 spending.
In comparison, SM Energy (SM), which has a lower market cap of ~$2.7 billion, has forecast its capex to reach ~$1.3 billion versus its 2017 capex of $936.0 million.
Article continues below advertisement
WLL's 2018 production forecast
Whiting Petroleum's (WLL) 2018 production guidance is 128.4 Mboepd (thousand barrels of oil equivalent per day), which is ~9.0% higher than its 2017 production. In the second quarter, WLL expects its Williston Basin production to be impacted by an outage at a third-party gas processing facility.
The plant processes almost all of the natural gas produced at Whiting Petroleum's Sanish field. While the company doesn't anticipate the outage to have an impact on its oil sales, it's expected to result in a reduction of 150,000 boe (barrels of oil equivalent) of its natural gas and NGL (natural gas liquids) sales.
Whiting Petroleum has reduced its second-quarter production outlook to reflect the impact of this unscheduled maintenance. However, the company's full-year production guidance remains unchanged.
In the next part, we'll take a closer look at WLL's Williston Basin operations.