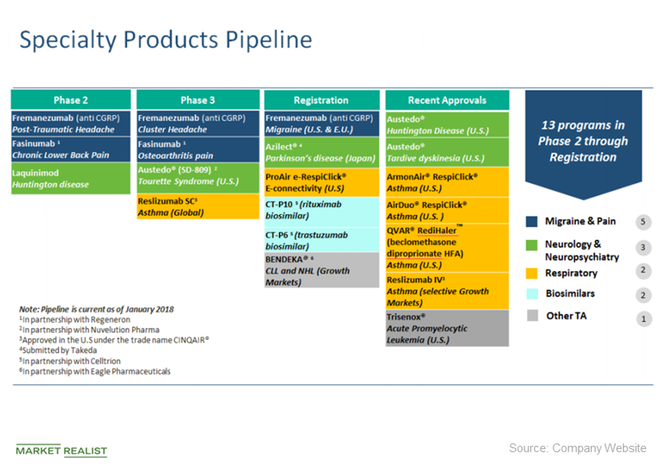 What's the Latest on Teva's Fremanezumab?
By Sarah Collins

Nov. 20 2020, Updated 12:27 p.m. ET
Teva's latest update on its migraine drug Fremanezumab
Teva's (TEVA) much-awaited migraine drug, Fremanezumab, is in late-stage trials for the treatment of cluster headaches. The drug is also undergoing phase-two trial for the treatment of post-traumatic headaches. The company provided an update regarding its Enforce Phase III clinical development program for the treatment of cluster headaches on June 15. The company has announced that it will discontinue its trial for chronic cluster headaches, as the study met the futility criteria.
Article continues below advertisement
Teva's Enforce III clinical development program consists of an episodic cluster headache study, a chronic cluster headache study, and a long-term safety study. For the chronic cluster headache study, a pre-specified futility analysis revealed that the primary endpoint is unlikely to be met. However, no safety concerns were observed. The episodic cluster headache study was not affected. However, the long-term safety study will exclude patients suffering from chronic cluster headaches.
Status of Fremanezumab drug FDA application
Teva recently got a PDUFA (Prescription Drug User Fee Act) action date of September 16 for the company's Fremanezumab drug approval application with the FDA. The drug is also under review in Europe as a monthly or quarterly injection for preventive migraine treatment in adults. During the company's Q1 2018 earnings results on May 3, the company had announced that it expects a delay in the approval for its Fremanezumab drug by the FDA due to the warning letter issued to its partner manufacturer Celltrion. However, the company recently announced that it has re-filed the application for the approval of its biosimilar version of Roche's (RHHY) Rituxan. The news had triggered a jump in JNJ's stock price.
Fremanezumab is expected to be a key growth driver for the company in the coming years. Amgen (AMGN) and Novartis's (NVS) Aimovig is the only FDA-approved anti-CGRP drug on the market for the preventive treatment of migraines. Eli Lilly (LLY) and Alder Biopharmaceuticals (ALDR) are the other potential competitors in the near term.
Be sure to check out all the data we've added to our quote pages. Now you can get a valuation snapshot, earnings and revenue estimates, and historical data, as well as dividend information. Take a look!
Correction: An earlier version of this article claimed that Johnson & Johnson recently got a PDUFA action date for Fremanezumab rather than Teva.