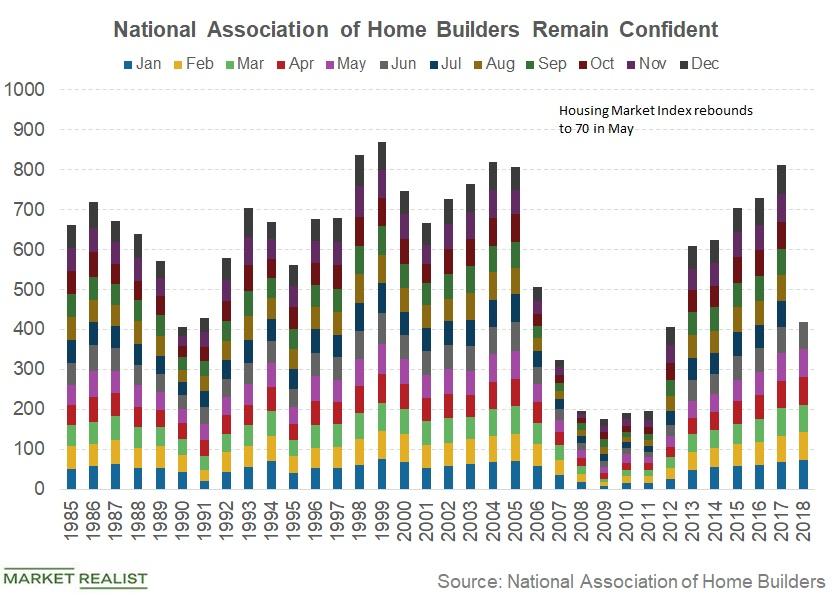 What American Builders Were Worried about in June
By Ricky Cove

Jun. 27 2018, Published 1:10 p.m. ET
About the NAHB housing market index
The National Association of Home Builders (or NAHB) is an association of 700 state and local associations of home builders (REM), and real-estate sales and marketing professionals, and re-modelers. The NAHBA conducts a monthly survey of its members and constructs the housing market index (or HMI) based on the results of the survey. The survey asks respondents to rate the current conditions and expected conditions in the next six months as "good," "fair," or "poor." The survey mostly relates to the single-family housing (ITB) market. The monthly report also rates prospective buyer traffic as "high to very high," "average," or "low to very low" for new homes.
Article continues below advertisement
NAHB HMI reading for June
The HMI was reported to have decreased by two points to 68 in June as compared to a May reading of 70. This is the second time since December that this index fell below 70. The primary reason cited for reduced builder confidence in June was the increasing cost of lumber in the recent months. Despite the drop, this reading is still at a higher level and indicates the confidence that builders have about the demand in the housing (ITB) sector. This HMI is a diffusion index whose value ranges between zero and 100 and is a weighted average of the results of three different surveys conducted by the NAHB. The component tracking current sales conditions dropped by one point to 75. The components measuring buyer traffic and sales expectations in the next six months remained unchanged at 76 and 50, respectively.
The outlook from the NAHB
NAHB chair Randy Noel said that builders' (PKB) optimism continues to grow with consumer demand, but tariffs on Canadian lumber have already added $9,000 to a new single-family home since January 2017.
The chief economist of the NAHB, Robert Diaz, felt that fundamental factors in the economy continue to support the positive outlook for the sector (REZ), but rising input costs could lead to some discomfort in the entry-level markets. In the next part of this series, we'll analyze why housing starts were up in May.