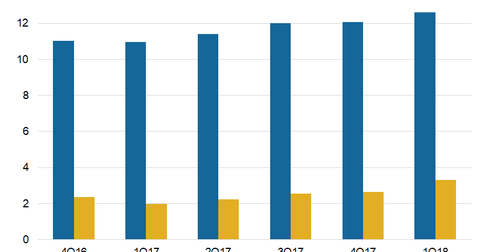 JPMorgan Chase's Credit Card Lending and Spending
By Robert Karr

Updated
Retail and credit card
JPMorgan Chase's (JPM) CCB (Consumer and Community Banking) segment has benefited from consumer spending, credit card revenues, and business lending. The segment is expected to see marginal growth on a sequential basis due to consumer spending and rate spreads. The CCB segment had revenues of $12.6 billion in the first quarter—a rise of 15% YoY (year-over-year) on spending and middle-market lending.
The CCB segment also benefited from 17% growth in consumer and business banking due to interest income on higher rates.
The CCB segment could continue to benefit from credit card lending. Since Fed has raised rates, business lending and home lending business could see a dent. The segment's card revenues increased 18% to $5.4 billion due to auto lease, interest income, and lower acquisition costs.
Visa (V) and MasterCard (MA) are leading in the Consumer Finance segment (XLF) due to consumer spending as well as the strong franchisee and global presence. American Express (AXP) and Discover Financial (DFS) are banking on consolidation and domestic growth.
Article continues below advertisement
Marketing push
Bankers, consumer finance companies, and other financial services firms are focusing on retail credit amid rising rates and weaker corporate borrowing. The CCB segment saw a 67% rise in the net income to $3.3 billion due to lower provisions and lower taxes.
The segment's non-interest expenses rose 8% due to technology spending and marketing. Credit provisions fell 8% compared to the rise witnessed by other industry peers, which reflects strong credit assessment and lending policies.
In upcoming quarters, the CCB segment could continue to thrive due to retail spending and lending subject to macroeconomic situation, settling of trade wars, and slower rate hikes. The segment's core loans grew 8%, deposits grew 6%, credit card sales grew 12%, and investments assets grew 13% in the first quarter.