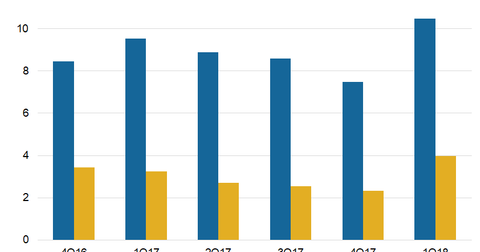 JPMorgan Chase Leads in Investment Banking
By Robert Karr

Updated
Trading and advisory
JPMorgan Chase's (JPM) CBI (Corporate and Investment Bank) segment benefited from higher volatility, a strong franchise in equity and debt underwriting, and mergers. The segment is expected to see a sequential decline due to lower trading revenues and subdued investment banking transactions due to higher rates and volatile equity markets. The decline will likely be partially offset by consolidation-backed transactions in some sectors.
The CIB segment posted net revenues of $10.5 billion in the first quarter—compared to $9.6 billion in the first quarter of 2017 and $7.5 billion in the fourth quarter of 2017. The growth was due to higher equity trading as well as currency and commodity trading.
Investment banking fees declined due to 7% lower equity and debt underwriting fees. The decline was partially offset by strategic transaction advisory and Treasury services. However, the bank continues to garner the top spot in wallet fees. Goldman Sachs (GS) is targeting structured debt, Citigroup (C) is targeting debt underwriting, and Bank of America (BAC) is pushing for global transactions across its offerings.
Trading volatility
Equity market volatility fell in the second quarter on a sequential basis. However, volatility remains high on a YoY basis. Volatility has witnessed an upward tick due to trade war concerns in recent weeks.
Banks (XLF) will likely see a sequential decline in trading income due to lower equity trading. The decline should be partially offset by interest in Treasuries and currency-backed trading. The CIB segment's market and investor service revenues rose 15% in the first quarter due to a 25% rise in equity trading. The equity rose due to derivatives and prime services.
The CIB segment's spending rose 9% due to higher compensation and transaction costs. Higher oil prices have helped release credit for bankers lending in the sector. Lower taxes result in higher operating cash flows.