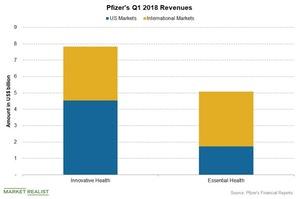 How Pfizer's Business Segments Have Performed
By Mike Benson

Updated
Pfizer's segments
As discussed, Pfizer's (PFE) business is divided into two business segments, Innovative Health and Essential Health. The chart below shows Pfizer's segment-wise revenue in Q1 2018.
Innovative Health
Innovative Health comprises ~60% of Pfizer's total revenue. In Q1 2018, the segment's revenue rose ~6% YoY (year-over-year) to $7.8 billion, including 3% operating revenue growth and a 3% boost by foreign exchange. The growth was driven by strong sales of Chantix/Champix, Genotropin, Ibrance, Xalkori, Xeljanz, and other drugs, consumer healthcare products, and Eliquis and Xtandi alliance revenue.
Oncology revenue grew 26% YoY to ~$1.7 billion, while inflammation and immunology revenue was flat at ~$869 million. Internal medicine revenue fell 1% YoY to ~$2.3 billion, vaccine revenue was flat at ~$1.5 billion, and rare disease revenue grew 8% YoY to $549 million.
Essential Health
Essential Health comprises ~40% of Pfizer's total revenue. In Q1 2018, the segment's revenue fell 5% YoY to $5.1 billion, including a 9% operating revenue decrease and a 4% boost by foreign exchange. The decline was driven by lower Premarin, Medrol, Celebrex, and Peri-LOE[1.loss of exclusivity] product sales, and partially offset by strong sales of biosimilars.
Pfizer's alliance revenue grew 30% YoY to $855 million from $656 million. Sterile injectable revenue fell 12% YoY, while Peri-LOE revenue fell 10% YoY. Legacy established product revenue grew 1% YoY, and biosimilar revenue grew ~66% YoY. The VanEck Vectors Pharmaceutical ETF (PPH) invests 4.9% of its holdings in Pfizer, 5.0% in Bristol-Myers Squibb (BMY), 4.9% in AstraZeneca (AZN), and 5.0% in GlaxoSmithKline (GSK).