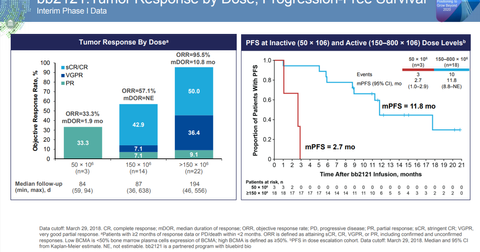 Celgene's CAR T Cell Therapy Could Be Long-Term Growth Driver
By Daniel Collins

Updated
Celgene and Bluebird's CAR T cell therapy update
In June 2018, Celgene (CELG) and Bluebird Bio (BLUE) presented updated results from the ongoing phase 1 CRB-401 trial of bb2121. Celgene and Bluebird's bb2121 is an investigational anti-BCMA (anti-B-cell maturation antigen) CAR T therapy.
Celgene and Bluebird Bio are conducting the phase one trial to evaluate the safety and efficacy of bb2121 for the treatment of individuals with relapsed or refractory multiple myeloma (or RRMM).
Trial outcomes
43 patients were enrolled and administered in either the dose-escalation cohort of the trial at four levels (50 x 106, 150 x 106, 450 x 106 or 800 x 106 CAR+ T cells), or in the dose-expansion cohort of the trial where the dose ranged between 150-450 x 106 CAR+ T cells. Patients in the trial received fludarabine and cyclophosphamide combination lymphodepleting conditioning regimen followed by bb2121 CART T cells.
In the phase one clinical trial, patients receiving 50 x 106 and 150 x 106 demonstrated an ORR (objective response rate) of 33.3% and 57.1%, respectively. Among patients receiving a dose greater than or equal to 150 x 106 CAR T cells, 95.5% of them achieved ORR with 50% of patients achieving CR (complete response) and 36.4% of patients achieving a very good partial response.
In the trial, of the eight patients whose myeloma cells expressed low levels of BCMA who received 450 x 106 CAR+ T cells, all of them showed a response. In the trial, the median PFS was 2.7 months for patients receiving 50 x 106 CAR+ T cells, while the median PFS estimate for patients in the dose-escalation phase receiving active doses was 11.8 months.
The success in the phase one trial could help Celgene and Bluebird conduct further phase 2/3 trials. The success in the clinical trial will support regulatory approval for the commercialization of the CAR T cell therapy.
Novartis's (NVS) Kymriah is the first CAR T cell therapy approved by the US FDA (Food and Drug Administration) for the treatment of non-Hodgkin lymphoma and B-cell acute lymphoblastic leukemia. The US FDA also approved Gilead Sciences' (GILD) Yescarta, a CAR T cell therapy for the treatment of individuals with relapsed/refractory large B-cell lymphoma.