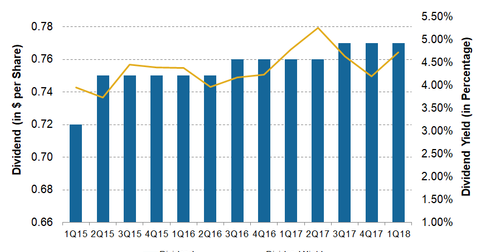 Analyzing Occidental Petroleum's Dividend and Dividend Yield
By Nicholas Chapman

Updated
Occidental Petroleum's quarterly dividend
Occidental Petroleum (OXY) will pay a quarterly dividend of $0.77 per share on its common stock on July 16 to shareholders of record as of June 11.
This payment will be the company's dividend payment for the second quarter. The indicated annual dividend rate is $3.08 per share.
In the trailing 12 months, Occidental Petroleum has paid a total dividend of $3.07 per share on its common stock. On June 22, the company's dividend yield—which reflects its trailing-12-month dividend divided by its stock price—stood at 3.7%. On June 22, OXY closed at $83.33.
Occidental's dividend history
Since the start of 2015, OXY's dividend payment has risen from $0.72 per share to $0.77 per share in the first quarter of 2018. According to Occidental Petroleum's press release in May, "Occidental has paid quarterly dividends continuously since 1975 and has increased its dividend each year since 2002."
Dividend yields of other upstream players