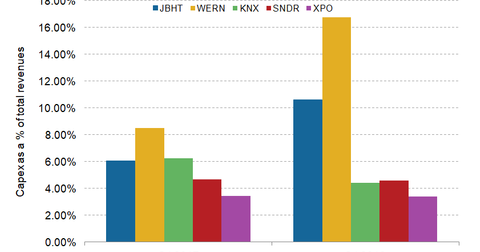 This Road Carrier's Capex Bucked the Trend in Q1 2018
By Samuel Prince

Updated
Trucking and capex
Trucking is a cyclical industry. Normally, the business and financial performances are better in the third and fourth quarters of a year compared with the first two quarters. This is a capital-intensive industry, as these companies are required to maintain and grow their fleet levels. 
However, the levels of capital investment in trucking (XLI) companies are comparatively lower than the capital investment required in the railroad industry. Railroads are required to lay down tracks at their own expense. In contrast, the trucking industry depends on the government's infrastructure spending.
Capex is normally expressed as a percentage of revenue. In this section, we'll evaluate the levels of capital expenditure (or capex) of these major US road transportation companies. This metric may not be indicative for carriers such as Knight-Swift Transportation (KNX) and XPO Logistics (XPO), as these companies have recently made major acquisitions.
Capex categories in trucking
In the trucking industry, carriers incur capital expenditures on a variety of fronts such as tractors, truck trailers, intermodal containers and chassis, other trailing equipment, and technology. Additions to revenue equipment is a key measure to gauge a trucker's business growth and outlook. Non-revenue generating assets essential to support business growth are also integral to an area of capital investment for the road carriers.
If a trucker is incurring higher capex, it may mean the company has bright future prospects. On the flip side, it may also mean replacement of an aged fleet. A quick look at the chart above suggests that JB Hunt Transport Services (JBHT) and Werner Enterprises (WERN) increased their first-quarter capex compared with the first quarter of 2017. 
JBHT's capex as a percentage of revenues rose 4.5% YoY to 10.6% in the first quarter from 6.1% in the first quarter of 2017. Werner's capex almost doubled when viewed from a percentage of revenue angle. In the first quarter, WERN's capital expenditure was 16.8%, up 8.2% YoY from 8.6% in the same quarter last year.
As we noted earlier, Knight-Swift Transportation's (KNX) and XPO Logistics' (XPO) capex declined in the first quarter. XPO's capex as a percentage of revenues fell 0.07% YoY, and KNX's capex level was down 1.8% YoY. Schneider National's (SNDR) capex fell 0.10% in the first quarter to 4.6% from 4.7% in the first quarter of 2017.
In the next article, we'll look at the financing activities of major US road carriers.