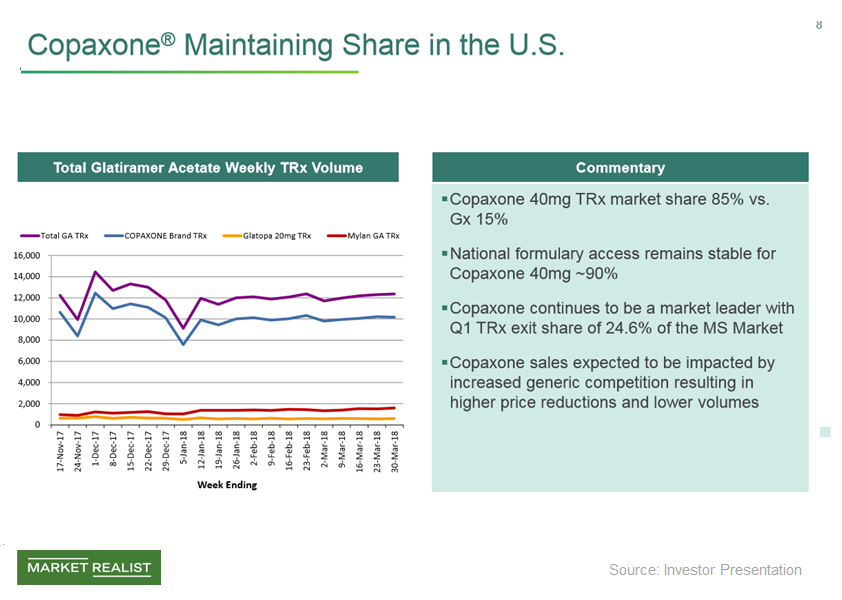 Teva's Copaxone Maintains Market Share amid Intense Competition
Copaxone performance in 1Q18
In fiscal 1Q18, Teva (TEVA) reported sales of $645 million for its multiple sclerosis drug, Copaxone, a sequential decline of ~21%. In the North America region, Teva registered Copaxone sales of $476 million, representing a YoY (year-over-year) decline of 40% due to increased competition from generics in the United States where the Copaxone sales were $462 million in fiscal 1Q18. In Europe, Copaxone sales registered growth of ~1% to $153 million. However, on a currency adjusted basis, Europe Copaxone sales fell ~13%. In the Growth Market segment, Copaxone sales came in at $16 million, a YoY decline of 24%.
Article continues below advertisement
Competition from new launches
As per Teva, it has maintained its volume and market share even after the launch of Mylan's (MYL) 40-milligram dosage of the generic version of Copaxone in October 2017. Pricing has been impacted to a large extent by higher discounts and rebates. The company stated that its 40-milligram US market share has remained at ~85%. However, the company expects to see some more competition from another generic of Copaxone developed by Momenta (MNTA) and Novartis (NVS), which was approved for 40-milligram dosage by the FDA (U.S. Food and Drug Administration) in February 2018.
Teva already has competition from Momenta and Mylan in the 20-milligram market for Copaxone and its generics. Teva expects to see marginal pressure on volumes going forward in 2018. In 2018, Teva expects Copaxone sales to come in at $1.8 billion.
Be sure to check out all the data we've added to our quote pages. Now you can get a valuation snapshot, earnings and revenue estimates, and historical data, as well as dividend information. Take a look!