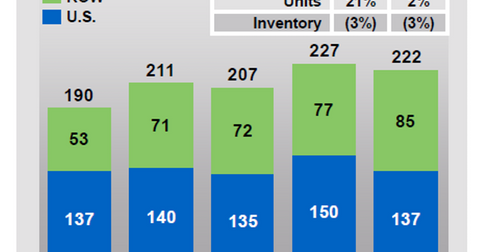 Oncology Portfolio Still a Key Growth Driver for Amgen in 2018
By Margaret Patrick

Updated
Kyprolis's growth trends
In the first quarter, Amgen's (AMGN) Kyprolis had a rapid uptake in non-US markets. It managed to take significant market share from Takeda Pharmaceutical's (TKPYY) Velcade, especially in Europe. The demand for the drug in Europe was driven by increasing use of the triplet regimen of Kyprolis, Celgene's (CELG) Revlimid (lenalidomide), and dexamethasone in the second line multiple myeloma (or MM) indication.
Article continues below advertisement
Xgeva's growth trends
Approved by the FDA in January for preventing skeletal-related events in MM patients, Xgeva has been receiving positive feedback from healthcare companies as well as physicians. The drug is being considered for MM patients who can't be treated optimally with bisphosphonates. Amgen has estimated the number of MM patients in the United States who would be eligible for treatment with Xgeva to be around 100,000.
In the first quarter, $30 million of Xgeva's total revenues of $445 million was related to a single buy-in, which is expected to burn off in the rest of 2018. To know more about Xgeva, please refer to Xgeva Could Significantly Boost Amgen's Revenue Growth in 2018.
Other oncology drugs
In the first quarter, Amgen witnessed combined sales of Blincyto, Vectibix, Nplate, and Imlygic of $400 million, mainly driven by volume growth for all the drugs. To know more about these oncology drugs, be sure to read How Amgen's Nplate, Vectibix, and Neupogen Performed in 1Q18.
The promising potential of the company's BiTE platform was further reflected in the recent accelerated approval of Blincyto with orphan drug designation for treating a minimal residual disease in B-cell precursor acute lymphoblastic leukemia patients who are currently in remission.
In the next part of this series, we'll look at Amgen's oncology research programs.