Is President Trump Robbing Peter to Pay Paul?
While higher steel prices benefit US steel producers, they raise input costs for downstream manufacturers.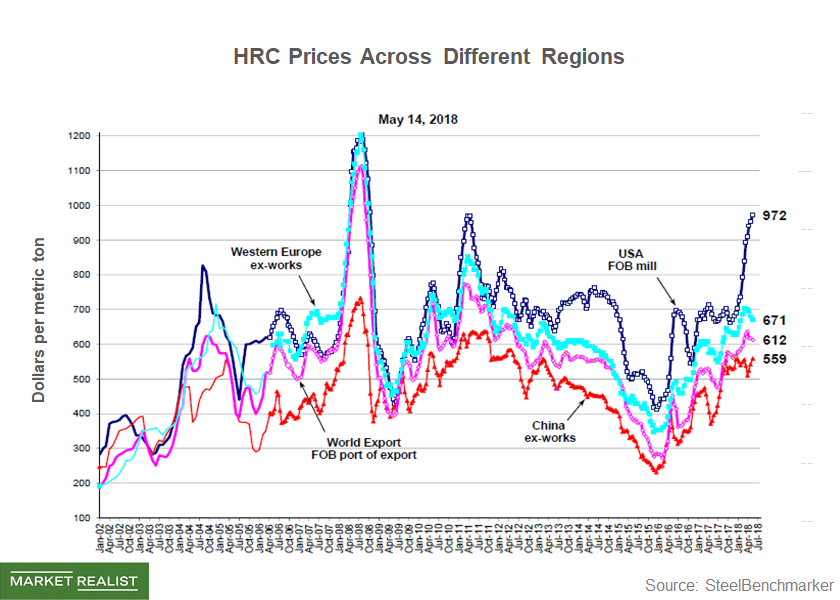 Downstream users
During Berkshire Hathaway's (BRK-B) annual shareholder meeting, chair Warren Buffett said, "We've seen steel costs increase somewhat," according to Reuters. Notably, US steel prices have spiked this year, and we've seen a widening of the spreads between international and US steel prices.
While higher steel prices benefit US steel producers, such as U.S. Steel Corporation (X) and AK Steel (AKS), they raise input costs for downstream manufacturers.
Article continues below advertisement
Article continues below advertisement
Impact on earnings
Arconic, which produces value-added products such as Berkshire-owned Precision Castparts, gave a profit warning during its first-quarter earnings call amid rising physical aluminum premiums in the United States. More recently, the Campbell Soup Company lowered its 2018 profit forecast.
Higher US aluminum premiums could increase packaging costs because aluminum is widely used as a packaging material. Beverage companies such as the Coca-Cola Company (KO) could also see cost pressures amid higher all-in aluminum prices.
Steel-consuming industries
Notably, critics of the Section 232 tariffs point out that the downstream steel and aluminum consuming industries make up a larger part of the US economy (SPY) than upstream producers. However, Charlie Munger upvoted the Section 232 tariffs during Berkshire's annual meeting. According to Reuters, Munger stated that "the conditions in steel were almost unbelievably adverse to the American steel industry. Even Donald Trump can be right on some of this stuff."
Having said that, it will be a tightrope walk for President Donald Trump to manage the aspirations of steel producers and consumers. On the trade front, the Trump administration is nearing its self-imposed deadline for the finalization of negotiations with the countries that have been exempted from the Section 232 tariffs. The next two weeks look to be action-packed for steel investors. Stay tuned to our Basic Materials page for ongoing updates on the US steel industry.