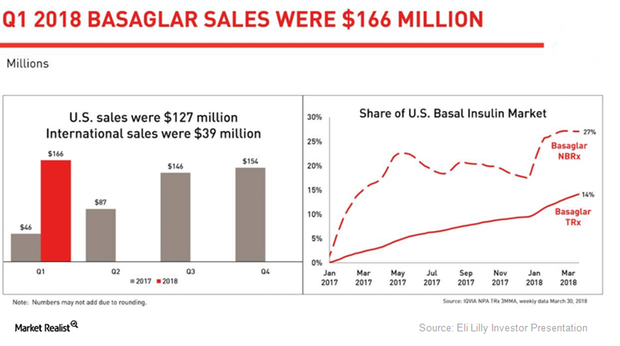 Humalog and Basaglar: Major Growth Drivers for Eli Lilly in 2018
Humalog growth trends
The highest-earning asset in Eli Lilly's (LLY) portfolio is its fast-acting insulin, Humalog, which reported revenues of ~$791.7 million in 1Q18. This represents year-over-year (or YoY) growth of 12.0%. While $504.1 million of these revenues were earned in the US market, the remaining $287.6 million was earned from international markets.
Volume growth was less of a growth driver for Humalog revenues in 1Q18. However, higher realized prices due to lower-than-anticipated Medicaid claims as well as other changes in payer mix resulted in an ~$50.0 million favorable impact on the company's estimates for rebates and discounts related to this drug.
This trend helped boost Humalog's revenues in 1Q18. Humalog reported 11.0% YoY revenue growth in international markets, which was due to favorable foreign currency fluctuations and growth in volumes.
Article continues below advertisement
Eli Lilly expects the favorable impact of low Medicaid utilization and other changes in payer mix related to Humalog to continue in the remainder of 2018. However, on December 11, 2017, the FDA approved Sanofi's (SNY) Admelog, a rapid-acting insulin. Eli Lilly expects the entry of similar insulin lispro products to have a gradual impact on Humalog's market share and pricing in future quarters.
Basaglar growth trends
The chart above highlights the revenue performance of Basaglar in the US and international markets. The graph also shows the growth trends for Basaglar's new-to-brand (or NBRx) and total prescriptions (or TRx) in the US basal insulin market since January 2017.
In 1Q18, Eli Lilly's diabetes portfolio reported 30.0% YoY volume growth, driven mainly by robust demand for drugs such as Trulicity, Jardiance, and Basaglar. Its long-acting human insulin analog, Basaglar, which is approved in both Type 1 and Type 2 diabetes indications, witnessed a robust rise in volumes and a small rise in realized prices in 1Q18. Basaglar is a biosimilar version of Sanofi's basal insulin, Lantus.
Novo Nordisk's (NVO) Levemir, Sanofi's Toujeo, and the recently approved Merck's (MRK) Lusduna are the other FDA-approved basal insulins.
In the next article, we'll discuss growth trends for Trulicity in greater detail.