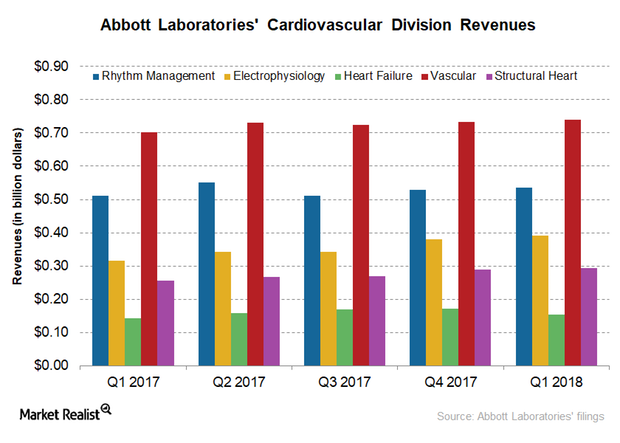 Abbott's CRM Business Was Flat in 1Q18—What's Ahead?
Abbott's CRM business performance
In 1Q18, Abbott Laboratories (ABT) reported sales of $535.0 million in its CRM (Cardiac Rhythm Management) business, which contributed ~19.5% to the company's total sales of $2.7 billion in the quarter. The segment's sales, however, registered flat YoY (year-over-year) growth on an organic basis. Abbott's Cardiovascular segment—consisting of its Rhythm Management, Electrophysiology, Heart Failure, Structural Heart, and Vascular businesses—reported sales of $2.1 billion in 1Q18.
Article continues below advertisement
In the United States, Abbott Laboratories registered CRM sales of $264.0 million, which represented YoY growth of ~1.3%. However, in the international markets, Abbott Laboratories' CRM sales grew ~8.3% and registered sales of $271.0 million. On an organic basis, international CRM sales fell ~1.2% while its US CRM sales registered growth.
Abbott's CRM business trends
Abbott Laboratories currently has good growth in its de novo CRM business, while the replacement business is comparatively slower for the company. However, Abbott Laboratories believes this is a temporary trend and expects to generate significant growth in its replacement business over the next couple of years.
The company's de novo business is growing ~1.0%–2.0%. Further, the company sees significant growth potential through its innovative product launches and a strong established market position. The company sees significant opportunity in electrophysiology.
Article continues below advertisement
In its Structural Heart business, Abbott Laboratories reported 1Q18 sales of $0.29 billion, registering YoY organic sales growth of 7.5%. This growth was led by the continued growth momentum in the company's market-leading MitraClip device. ABT has access to new markets, as the device has been approved for reimbursement in a number of countries.
In March, the device was approved for reimbursement in Japan. For more on this development, please read MitraClip Drives Growth, Gets Reimbursement Approval in Japan. The company has launched several products in the recent quarter. It received FDA approval for the Masters HP 15mm rotatable mechanical heart valve, which is the only heart valve developed for newborns and infants. These factors are expected to boost the segment's sales going forward.
In electrophysiology, Abbott Laboratories reported 1Q18 sales of $0.39 billion, registering YoY organic sales growth of 18.6%. This growth was driven by the strong market uptake of a number of recently launched products, including the company's one-of-a-kind Confirm Rx ICM (insertable cardiac monitor) and Ensite Precision Cardiac Mapping System.
These products are expected to gain market share amid competitors like Boston Scientific (BSX), Medtronic (MDT), and Edwards Lifesciences (EW) and drive the segment's growth.
Be sure to check out all the data we've added to our quote pages. Now you can get a valuation snapshot, earnings and revenue estimates, and historical data, as well as dividend information. Take a look!