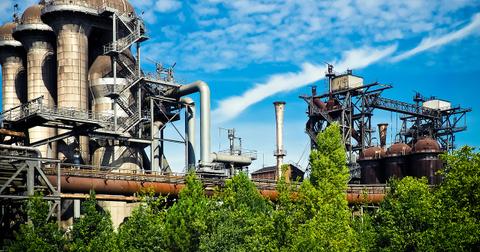 These Sectors Drove Industrial Production Higher in March
By Ricky Cove

Updated
March industrial production up by 0.5%
The Federal Reserve released the March industrial production report last week. The report indicated that industrial production rose 0.5% in March as compared to stellar growth of 1.1% in February. It was the sixth consecutive monthly gain.
The industrial production index tracks the activity in the manufacturing (XLI), gas and utilities (XLU), and mining (XME) and electric sectors. Any abrupt changes in the industrial production numbers act as a sign of future changes to the business cycle.
Article continues below advertisement
The economic impact of industrial production
Industrial production continued to rise in March after strong growth in February. Though the March industrial production growth was only half the February growth rate, it was still a very good rate of increase. In the past one year, industrial production has risen 4.4%, which is the highest rate of growth in a 12-month period since 2011.
Which sectors helped the rise in industrial production?
As per the latest report, the continued improvement in the mining sector and a higher production level in the auto industry helped boost production levels in March. The auto sector (CARZ) continued to grow as the February vehicle production was revised higher to a 1.5% gain, the highest productivity growth in the last nine years.
The mining (PICK) sector also helped boost production with a 1.0% gain in March, which was primarily because of the strong gains in oil and gas exploration. Mining has risen 10.8% in the last 12 months. The only disappointment in the March report was the 0.2% decrease in industrial production in non-auto manufacturing. The fall came after strong growth of 1.3% in February, so it should not be a major reason to worry. In the next part of this series, we'll analyze the changes in capacity utilization for US industries in March.