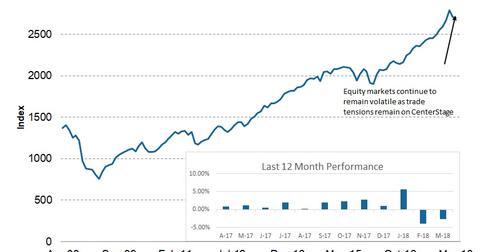 The S&P 500's Monthly Decline—A Negative Sign for the Economy?
By Ricky Cove

Updated
S&P 500 Index drops records another monthly loss in March
The S&P 500 Index (SPY) continued its negative run for a second consecutive month in March, as trade war fears and geopolitical tensions made investors risk-averse. The S&P 500 Index declined ~3.9% in February and ~2.7% in March, with these declines primarily being driven by increased trade tensions rather than any change in the underlying fundamentals.
Article continues below advertisement
S&P 500's performance and its impact on the leading index
The Conference Board Leading Economic Index (or LEI) uses the performance of the S&P 500 Index (VOO) as one the constituents of the LEI. There have always been debates that the stock markets (IVV) are not a true reflection of the state of the economy, but econometric studies have some support for this theory. 
In the case of the Conference Board LEI, the financial model used to construct the leading index only gives a weight of ~4.0% to the performance of the S&P 500 Index (UPRO). In March, the performance of the S&P 500 Index had a net neutral impact on the LEI, as the index was little changed from the February reading.
ETFs tracking the S&P 500 Index
The SPDR S&P 500 ETF (SPY), the iShares Core S&P 500 ETF, and the Vanguard S&P 500 ETF are among the prominent funds tracking the performance of the index. These funds have seen large outflows in February and March amid increased volatility (VXX), but investors are slowly moving back into these funds as fears of a trade war with China, and the escalation of tensions in Syria have receded. The ongoing earnings season, if positive, is likely to push the US indexes back into positive territory. 
In the next part of this series, we'll analyze the decline in credit conditions in the US.