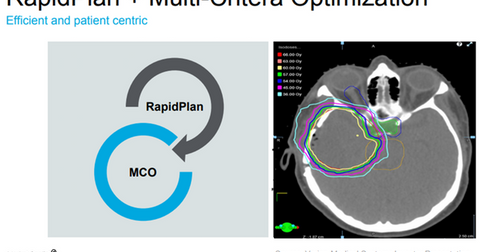 Software Services: Major Growth Driver for Varian Medical Systems
By Margaret Patrick

Apr. 5 2018, Updated 9:00 a.m. ET
Software services
In 1Q18, Varian Medical Systems (VAR) witnessed a 4% YoY (year-over-year) rise in unique customers for its software solutions. Its key treatment planning platform, Eclipse, increases the degree of automation, interactivity, and speed of radiation treatment, while ensuring increased accuracy, efficiency, and flexibility of the therapy.
Article continues below advertisement
RapidPlan trends
In 2014, Varian launched its RapidPlan, a knowledge-based treatment planning software to develop higher-quality treatment plans in less time. RapidPlan works synergistically and seamlessly with multi-criteria optimization (or MCO) capabilities available on the Eclipse platform and enables the dosimetrist and clinician to fine-tune and create a customized, optimal treatment plan for patients.
In 1Q18, the installed base of RapidPlan grew YoY by 100%. The MCO capability is expected to further drive the adoption of RapidPlan, both in emerging and established markets in the coming quarters. That, in turn, is expected to further strengthen Varian Medical Systems' leadership in the global radiotherapy segment and play a pivotal role in expanding the geographical reach of the company.
Varian Medical Systems expects to witness an incremental revenue opportunity of $300 million from upgradations of its Eclipse system through the HyperArc solution and RapidPlan software, the MCO capability in the Eclipse 15.5 version combined with the RapidPlan software, and the graphics processing unit (or GPU) introduced in the Eclipse 15.5. The GPU is expected to improve productivity and overall calculation efficiency. RapidPlan is thus expected to enable Varian Medical Systems to compete effectively with other medical device players such as Medtronic (MDT), Edwards Lifesciences (EW), and Abbott Laboratories (ABT).
Oncology continuum solutions
Besides treatment planning systems, Varian Medical Systems has also developed an extensive portfolio of oncology continuum solutions, including ARIA, InSightive, Velocity, and 360 Oncology. These help in workflow management and provide decision support across the entire treatment continuum from diagnosis to patient treatment, thereby possibly helping the company expand its addressable market size.