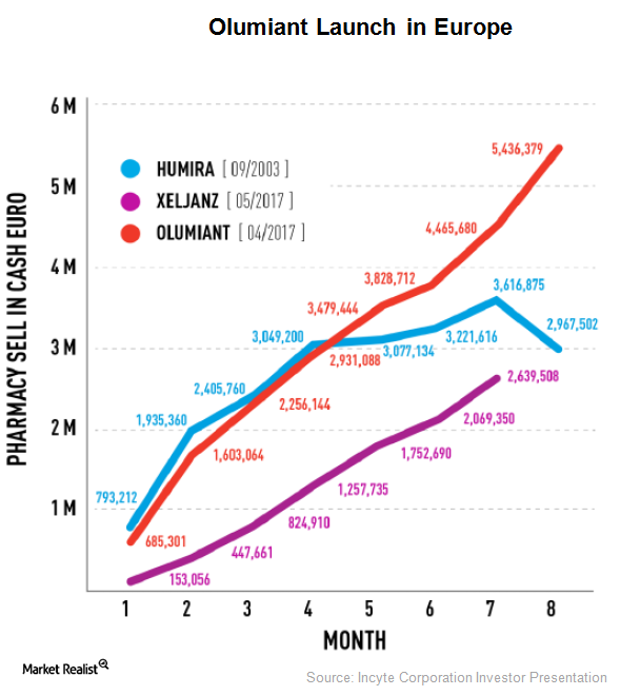 Olumiant Could Boost Incyte's Revenues
Olumiant growth trends
In February 2017, Eli Lilly (LLY) secured approval for Olumiant (baricitinib) from the European Medicines Agency (or EMA) for patients suffering from moderate-to-severe rheumatoid arthritis (or RA) and who did not respond sufficiently or could not tolerate disease-modifying antirheumatic drugs (or DMARDs). In July 2017, the drug was approved by the Japan Ministry of Health, Labor, and Welfare for RA patients who don't respond sufficiently to standard-of-care treatment options. The drug is also approved in Switzerland for the RA indication.
In December 2009, Incyte (INCY) entered a collaboration with Eli Lilly and out-licensed worldwide development and commercialization rights for Olumiant and other follow-up compounds for treating autoimmune and inflammatory conditions.
Article continues below advertisement
Olumiant launch in the US
In April 2017, the U.S. Food and Drug Administration (or FDA) refused to approve Olumiant for the RA indication, citing the need for additional data to decide on optimal dosage. The regulatory authority also required additional data in order to characterize the safety concerns in the trials involving the drug.
In December 2017, Eli Lilly resubmitted the new drug application (or NDA) to the FDA seeking approval for Olumiant in the RA indication. Being a class II resubmission, the FDA will review the application in six months or by mid-2018. Incyte and Eli Lilly also expect an advisory committee meeting prior to the final decision by the FDA to discuss data related to this application publicly. To know more about Olumiant, please refer to How Is Olumiant Positioned after 3Q17?
Eli Lilly has already initiated a phase three trial evaluating Olumiant in the atopic dermatitis indication, while the company plans to begin a phase three trial for the drug in psoriatic arthritis indication by late 2018. Additionally, results from the phase two trial evaluating Olumiant in systemic lupus erythematosus are expected in late 2018.
Check out all the data we have added to our quote pages. Now you can get a valuation snapshot, earnings and revenue estimates, and historical data as well as dividend info. Take a look!
In the next article, we'll discuss Incyte's R&D programs in greater detail.