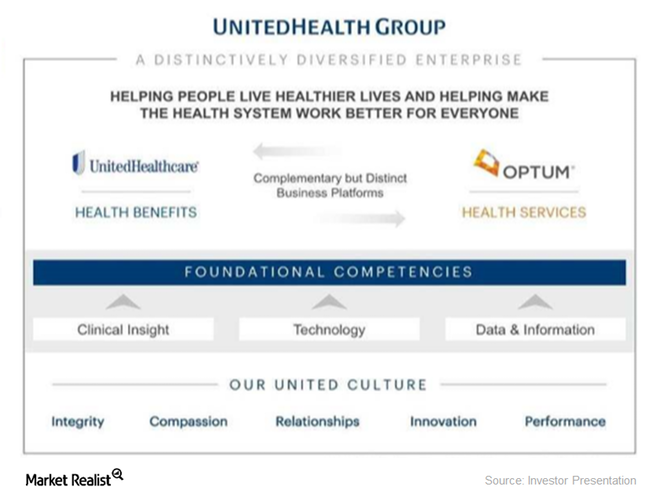 How Is UNH's Optum Business Positioned in the Industry?
UNH's Optum business
UnitedHealth Group is, by revenue, the largest healthcare company in the world. Its subsidiaries, UnitedHealthcare and Optum, offer health insurance services and healthcare products.
The company's Optum business, established in 2011, operates through three segments: OptumHealth, OptumInsight, and OptumRx. OptumHealth offers care delivery and ambulatory care services, OptumInsight is the company's data analytics and technology arm, and OptumRx offers pharmacy benefit services. UnitedHealth Group has been focused on expanding its Optum business through inorganic growth over past few years. Some recent acquisitions include surgical care company Surgical Care Affiliates, MedExpress in the urgent care space, and most recently, DaVita Medical Group, to expand in primary care services.
Article continues below advertisement
Vertical integration accelerating in the health insurance industry
UnitedHealth Group has been focusing on acquisitions, expanding its operations, and positioning itself as an integrated healthcare business. The company has been building its Optum business over the years and has vertically integrated into pharmacy benefit management and the care service business, which employs physicians. The model has enabled higher cost efficiency and business growth. Recently, peers have followed suit, with acquisitions such as that of Aetna (AET) by CVS Health (CVS), Express Scripts (ESRX) by Cigna (CI), and Kindred Healthcare (KND) by Humana (HUM).
Be sure to check out all the data we've added to our quote pages. Now you can get a valuation snapshot, earnings and revenue estimates, and historical data, as well as dividend information. Take a look!