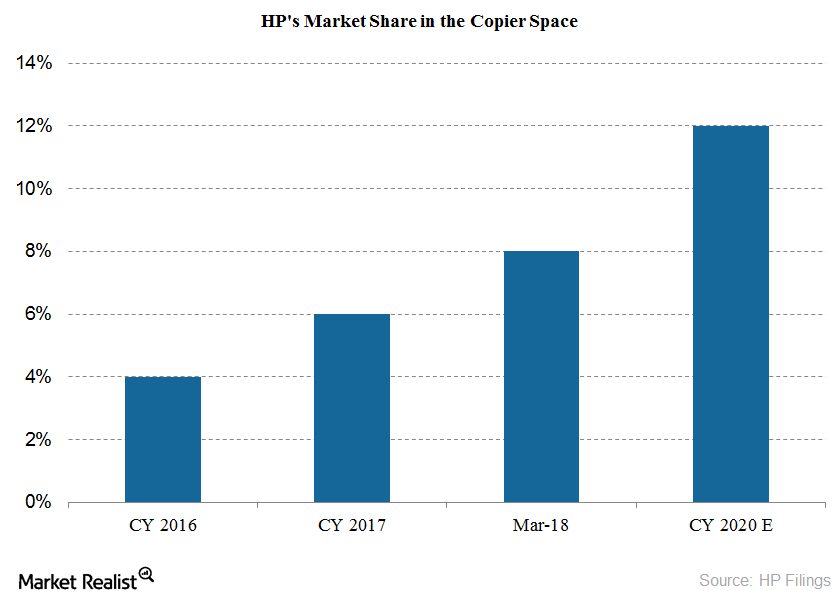 How HP Views the A3 Copier Market
Samsung acquisition completed in November 2017
In September 2016, HP (HPQ) announced its intention to acquire Samsung's (SSNLF) Printing business for $1.1 billion. This acquisition was completed in November 2017. While the acquisition should help HP gain traction in the A3 space, the company expects short-term headwinds to reduce its installed base.
HP launched several Printing products last year and is looking to expand into new channels. HP aims to penetrate the A3 copier space with its differentiated technology. It is using printing laser technology, resulting in a cost advantage to channel partners and consumers.
Article continues below advertisement
Article continues below advertisement
HP has an ~8% market share in the A3 space
Although HP is still in the early stages of selling its full portfolio, the company has claimed to have a 7.9% market share in the A3 copier space. The company is optimistic about the positive customer response to its focus on the security of its products. Security continues to be an attractive selling point, not just for connected personal computers but also for connected printers.
HP continues to be flexible in its product offerings, providing ink to enterprises at half the cost of laser technology. HP is now targeting a share of 12% in this market by the end of fiscal 2020.
Last year, HP valued the total available A3 market at $55 billion. Achieving a 12% share in this space would mean annual revenue of $6.6 billion in this vertical. HP has detailed plans to penetrate the A3 space in every country over the next few years. In the US A3 copier space, HP competes with tech giants Canon (CAJ), Ricoh (RICOY), Xerox (XRX), Konica Minolta, and Toshiba (TOSYY), who had market shares of 26%, 20%, 16%, 14%, and 6%, respectively, at the end of 2016.