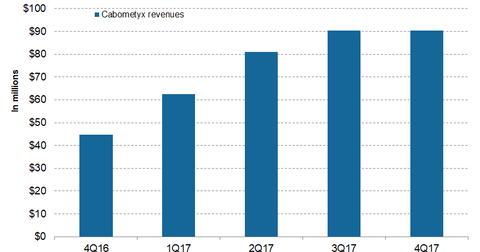 How Exelixis's Cabomeytx and Cometriq Performed in 4Q17 and 2017
By Daniel Collins

Updated
Cabometyx's revenue trends
In 4Q17, Exelixis's (EXEL) Cabometyx reported revenue of $90.4 million compared to $44.7 million in 4Q16, which reflected a ~102% rise on a YoY (year-over-year) basis. In 4Q17, Cabometyx's quarter-over-quarter revenue remained flat.
In 4Q17, Cabometyx demand remained high compared to 3Q17, but it was offset by a decrease in wholesaler inventories, a higher gross-to-net rate, and more weeks of inventory on hand. The FDA's approval of the drug's label expansion also boosted its revenue growth in 4Q17.
In 2017, Cabometyx generated revenue of $324 million compared to $93.5 million in 2016.
Article continues below advertisement
Cometriq's revenue trends
In 4Q17, Exelixis's (EXEL) Cometriq generated revenue of $5.3 million compared to $7.2 million in 4Q16, which reflected a ~26% fall on a YoY basis and a ~13% fall quarter-over-quarter.
In 2017, Cometriq reported revenue of $25 million compared to $41.9 million in 2016.
Recent developments
In December 2017, the FDA approved Exelixis's Cabometyx for the treatment of individuals with advanced renal cell carcinoma (or RCC) in a first-line setting. The FDA's approval of the label expansion was based on the results of the company's Phase 2 CABOSUN trial. 
Exelixis conducted the trial to evaluate the safety and efficacy of Cabometyx in individuals with advanced RCC who hadn't undergone any previous therapy. In the trial, Cabometyx demonstrated statistically significant and clinically meaningful progress in PFS (progression-free survival) in previously untreated patients compared to Pfizer's (PFE) Sutent.
According to Exelixis's press release on December 19, 2017, Cabometyx demonstrated a 52% reduction in the rate of disease progression or death. The median PFS rate was 8.6 months for patients on Cabometyx compared to 5.3 months for patients receiving sunitinib.
In the advanced RCC drugs market, Cabometyx competes with Novartis's (NVS) Afinitor and Votrient, Roche's (RHHBY) Avastin, and Bristol-Myers Squibb's (BMY) Opdivo.