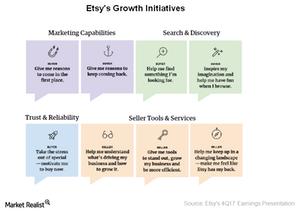 Can Etsy Sustain Momentum in Revenue Growth?
By Victoria Dean

Apr. 20 2018, Updated 3:55 p.m. ET
Revenue projection
For 2018, analysts expect Etsy (ETSY) to report revenue growth of 22.4% to $533.9 million. Etsy's management has projected revenue to grow in the range of 21% to 23%, while GMS (gross merchandise sales) is expected to be up 14% to 16% on a YoY (year-over-year) basis as strategic initiatives gain traction.
For 2017, the company reported revenue of $441.2 million, up 20.9% from 2016. GMS was up 14.5% to $3.3 billion. Segment-wise, marketplace revenue was up 13.5% to $179.5 million, while seller services revenue increased 28.7% to $258.5 million. Mobile continues to be the biggest catalyst for mobile visits (web and app) with growth of 66%, a rise of 200 basis points on a YoY basis. Mobile conversion rates were strong in 4Q17, but mobile app conversion rates were relatively soft.
Article continues below advertisement
Growth strategy
Etsy has been improving trust and reliability for buyers and has stated that it will collect more "structured data" from sellers and provide the buyer with a lot of information about the product to aid in purchasing decisions. The company is also simplifying the search process by deploying machine learning and artificial intelligence along with human curation. These strategies could help buyers choose from among 50 million on its platform, said CEO Josh Silverman at the 4Q17 earnings conference call.
Etsy is aiming to bring more transparency to the whole buying process by adding clear information on returns/exchanges and shipping dates. The company is ramping up its marketing spending to attract more customers. It's crucial for Etsy to develop its marketing capabilities to give its sellers a competitive advantage over other e-commerce retailers.
Etsy is also making the environment business friendly for sellers by offering them efficient tools and services. Etsy has a base of 1.9 million active sellers, and women make up the majority of these sellers.
Peers' top-line expectations
For 2018, Shopify (SHOP) expects revenue to be in the range of $970 million to $990 million compared with $673.3 million reported in 2017. The company is ramping up investments to boost its international business as well as its Shopify Plus business. The company will be adding 500 new employees to Shopify Plus in the next three to five years.
For 2018, eBay (EBAY) expects revenue to be in the range of $10.9 billion to $11.1 billion compared with $9.6 billion reported in 2016. The company expects growth to be driven by gross merchandise volume as well as growth in the StubHub, Marketplace, and Classified platforms.