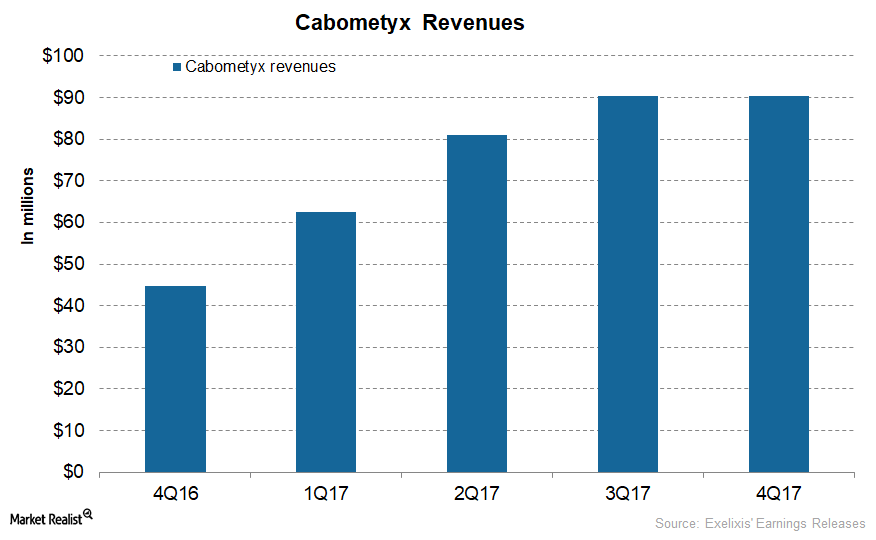 Cabometyx Could Be Exelixis's Long-Term Growth Driver
Cabometyx for advanced HCC
In March 2018, the FDA accepted Exelixis's (EXEL) supplemental New Drug Application (or sNDA) for Cabometyx as a therapy for the treatment of individuals with advanced hepatocellular carcinoma (or HCC) who have previously undergone therapy.
Exelixis's sNDA was based on the results of its Phase 3 CELESTIAL trial. In October 2017, an independent data-monitoring committee recommended that Exelixis stop its CELESTIAL efficacy trial after a review of the second planned interim analysis, wherein Cabometyx demonstrated statistically significant and clinically meaningful progress in overall survival compared to the placebo in individuals who had already been treated for advanced HCC. In March 2017, Cabometyx was granted an orphan drug designation by the FDA for the treatment of individuals with advanced HCC.
Article continues below advertisement
Cabometyx in the EMA regulatory process
In March 2018, Ipsen, a partner of Exelixis, announced that the EMA's (European Medicines Agency) Committee for Medicinal Products for Human Use (or CHMP) had expressed a positive opinion on Cabometyx 20 mg, 40 mg, and 60 mg for the treatment of adult individuals with intermediate- or poor-risk advanced renal cell carcinoma (or RCC) in a first-line setting.
In March 2018, Ipsen announced that it had received approval from the EMA for a variation of Cabometyx's marketing authorization application. The variation application will be for the addition of a new indication for Cabometyx. It will include the use of Cabometyx in the treatment of previously treated individuals with advanced HCC.
According to the terms of the agreement between Exelixis and Ipsen, Exelixis earned a milestone payment of $10 million upon the EMA's acceptance of its marketing authorization variation application.
The approval of Cabometyx for advanced HCC by the FDA and for advanced HCC and RCC by the European Commission should help in the label expansion of the drug. The approval of Cabometyx's label expansion by both the FDA and the European Commission, along with other regulatory authorities across the world, is expected to boost the sales growth of Cabometyx. Exelixis is conducting various other clinical trials for the label expansion of the drug.
Some important drugs for the treatment of advanced HCC in the marketplace include Bayer's (BAYZF) Stivarga and Nexavar and Bristol-Myers Squibb's (BMY) Opdivo.
About HCC
According to the International Agency for Research on Cancer and Globocan estimates in 2012, 800,000 new incidences of liver cancer are diagnosed each year, and over 700,000 deaths occur each year due to liver cancer. According to the American Cancer Society (or ACS), HCC makes up around three-quarters of all liver cancers. ACS also estimates that in the United States, ~42,000 new cases will be diagnosed in 2018.