Apple's iPhone Demand in India
Despite its high price, Apple's iPhone X was reportedly well received by Indian consumers.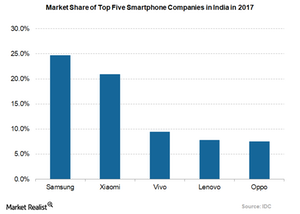 Apple's position in India
Apple (AAPL) has a history of making high-end smartphones, and in emerging markets such as China (FXI) (MCHI) and India (INDA), Apple is positioned as a luxury brand where its products are sold at higher prices. Apple's most expensive smartphone to date is the iPhone X, which starts at $1,000 in the United States for the 64 GB (gigabyte) model and then goes up to $1,149.
Article continues below advertisement
Article continues below advertisement
Response to the iPhone X
According to an article in the Indian Express, for an average consumer in India, the price of Apple's iPhone X is very high. The iPhone X's starting model is priced at 80,999 Indian rupees for the 64 GB model, according to prices shown in the online shopping site Amazon.in on April 12, 2018.
According to data compiled by Counterpoint Research, Apple accounted for 47% of all smartphones priced above 30,000 rupees (approximately $460). In this premium segment, Apple's iPhone X competes with OnePlus 5T and Samsung's (SSNLF) Galaxy Note 8, priced at 32,999 rupees and 62,980 rupees, respectively, on Amazon.in.
Despite its high price, Apple's iPhone X was reportedly well received by Indian consumers who were willing to pay a premium for a quality product with high specifications. The information came from Navkendar Singh, IDC's (International Data Corporation) associate research director with Client Devices for India and South Asia.
Smartphone market in India
India is the world's second-largest smartphone market. However, low-cost smartphones have a larger market share than luxury smartphones in India. Smaller smartphone vendors such as China's Xiaomi and Oppo are thus posing tough competition for Apple and Samsung. According to IDC, Samsung still tops the smartphone market in 2017. However, Xiaomi replaced Samsung as the top smartphone vendor in the December quarter.