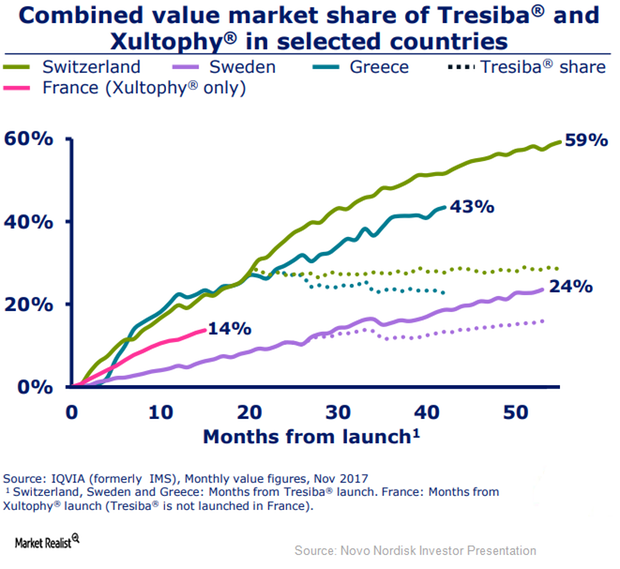 Xultophy May Prove a Strong Growth Driver for NVO in 2018
<p>Novo Nordisk's (NVO) Xultophy reported sales close to 729 million Danish kroner in 2017.</p>
Xultophy's growth trend
Novo Nordisk's (NVO) Xultophy reported sales close to 729 million Danish kroner in 2017, a 252% YoY (year-over-year) rise on a reported basis and a 255% YoY rise in local currencies. The uptake of Xultophy, a combination of Tresiba and Victoza, was mainly driven by increasing demand in European and North American markets.
Xultophy secured approval from the FDA on November 21, 2016, as a once-daily injectable adjunct therapy for type 2 diabetes patients who don't respond adequately to a daily intake of 50 units of basal insulin or up to 1.8 mg of Victoza (liraglutide). Xultophy was launched in the United States in May 2017. By the end of 2017, the drug had already launched in around 18 markets across the world.
Article continues below advertisement
Article continues below advertisement
The above diagram shows the combined market share of Tresiba and Xultophy in certain markets. Tresiba and Xultophy have proved to be strong assets in Novo Nordisk's portfolio, enabling the company to compete effectively with other diabetes players such as GlaxoSmithKline (GSK), Merck & Co. (MRK), and Eli Lilly (LLY).
Superior clinical profile
In the Phase 3 DUAL VII study, Xultophy 100/3.6 combined with metformin managed to demonstrate comparable efficacy in reducing glycemic values in type 2 diabetes patients compared to a basal-bolus therapy composed of insulin glargine U100, insulin aspart, and metformin.
However, while Xultophy was administered only once a day, the basal-bolus therapy had to be delivered to patients up to five times per day. Further, the total dose of Xultophy administered per patient was 44 insulin units fewer (or 52% lower) than the total dose of the basal-bolus therapy.
In the DUAL VII study, Xultophy combined with metformin also demonstrated an 89% lower rate of hypoglycemic events compared to those witnessed by patients on the basal-bolus therapy. A Xultophy and metformin combination regimen also demonstrated a weight loss difference of almost 3.6 kg compared to that seen in patients treated undergoing basal-bolus therapy.
In the next article, we'll discuss Novo Nordisk's label expansion strategy for Xultophy and Fiasp in greater detail.