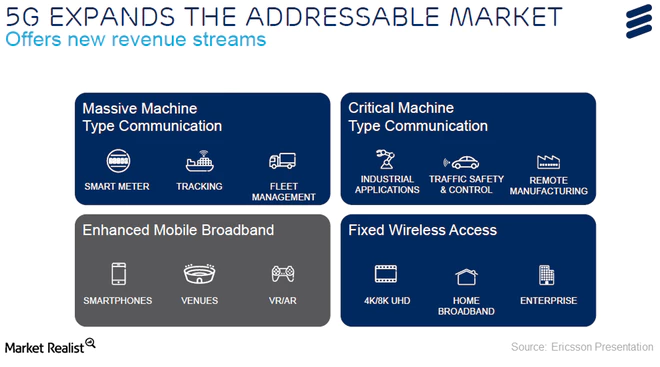 What Are Ericsson's Target Segments to Drive Future Revenue?
Telecom industry and mobile adoption
Ericsson (ERIC) believes the global telecom (telecommunications) industry is a key driver of economic growth and innovation. According to Ericsson, there will be about 9.1 billion mobile subscriptions globally by 2023, which indicates an exponential penetration since mobile technology was introduced in the early 1990s. That's likely to drive the demand for mobile broadband in order to provide opportunities for telecom equipment companies, including Ericsson, Nokia (NOK), Cisco Systems (CSCO), Panasonic (PCRFY), and China's (FXI) Huawei.
Ericsson aims to become a leaner organization in the future, which might allow it to better service the growing demands of telecom customers. Last year, Ericsson said that in addition to simplifying operations, it would like to restore profitability and stability.
Article continues below advertisement
Emerging business
Ericsson created a new business area called Emerging Business in January 2018 that will develop partnership-based services and innovate new streams of revenue for customers. Ericsson is also aiming to scale new opportunities in fast-growing segments such as UDN (Unified Delivery Network), AI (artificial intelligence), and IoT (Internet of Things).
5G technology
Ericsson, like its peers, views the transition to 5G (fifth-generation) technology as very important for revenue growth. It expects 5G to be available around 2020. Developed economies in North America and Western Europe could be the first to adopt this technology.
Ericsson is also looking to gain market share in emerging markets by providing scalable and modular platforms at lower ownership costs.