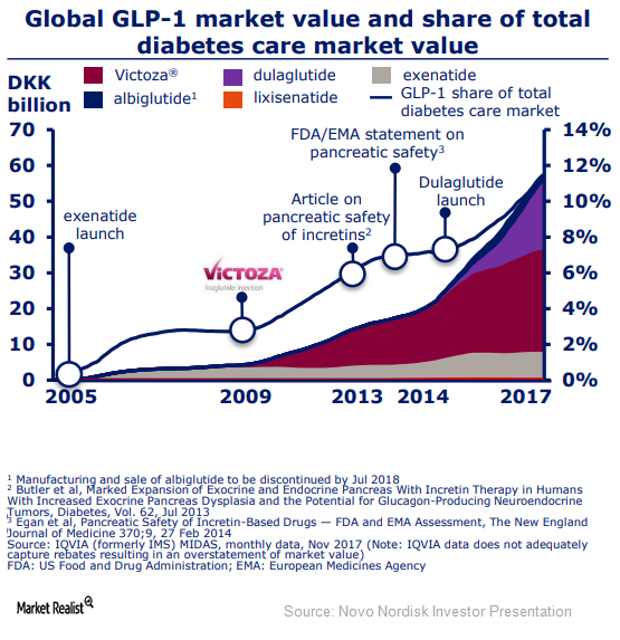 Victoza Continues to Lead in the GLP-1 Segment in 2018
Victoza growth trends
According to IQVIA, Novo Nordisk's (NVO) Victoza accounted for a 14% share of the global market value of dipeptidyl peptidase-4 (or DPP4) inhibitors, sodium-glucose cotransporter-2 (or SGLT2) inhibitors, and glucagon-like peptide (or GLP-1) segments combined.
According to estimates on reported 2017 sales and data collected by IQVIA, Victoza accounted for market shares of ~48%, 58%, 49%, 41%, 75%, and 68%, in North America, Europe, Africa, Asia, the Middle East and Oceania, Japan and Korea, Latin America, and China, respectively.
Article continues below advertisement
Article continues below advertisement
The above diagram shows the evolution of the GLP-1 class of drugs, starting from the launch of AstraZeneca's (AZN) Byetta (exenatide) in 2005 and followed by the launch of Victoza in 2009. The entry of the once-a-week therapy Trulicity (Dulaglutide) by Eli Lilly (LLY) has helped boost the growth of the entire GLP-1 class. GlaxoSmithKline's (GSK) Tanzeum and Sanofi's Lyxumia are other prominent GLP-1 drugs.
Cardiovascular benefits
According to an article in the New England Journal of Medicine, diabetic patients are six to eight times more likely to face cardiovascular events despite continuous improvements in treatment options.
In 3Q17, Novo Nordisk managed to update Victoza's label in the United States and Europe based on positive data about the cardiovascular benefits of Victoza demonstrated in the LEADER study. The drug was relaunched in 4Q17 after the appropriate training of the sales force.
Novo Nordisk is also focused on creating awareness about reducing cardiovascular risk in diabetes patients with branded direct-to-consumer marketing. Following the update of Victoza's label, there has been an increase in new-to-brand prescriptions for the drug in the United States.