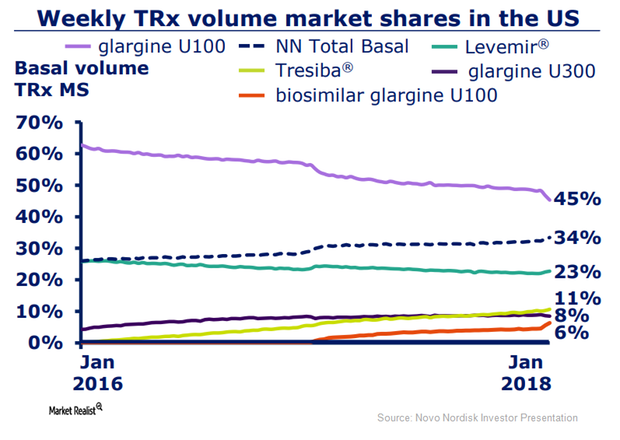 Tresiba Emerged as a Blockbuster Therapy in 2017
Tresiba's growth trend
In 2017, Novo Nordisk's (NVO) basal insulin therapy, Tresiba, reported revenue of nearly 7.3 billion Danish kroner and attained blockbuster status. This therapy launched in almost 62 countries at the end of 4Q17.
The drug has witnessed rapid uptake in markets in which it has par access compared to competing products, such as insulin glargine U100. However, the uptake of the drug has remained limited in markets in which there has been restricted access.
Article continues below advertisement
Article continues below advertisement
In the United States, Novo Nordisk managed to attain a 34% share of the total basal insulin market by volume as of January 2018. The company also managed to reach its target of 10% of total prescription (or TRx) volume share for Tresiba in the basal insulin market in the United States in 2017. In January 2018, Tresiba accounted for 10.7% of TRx volumes in the US basal insulin segment, a YoY (year-over-year) rise of almost 5%.
A combined ~70% of commercially insured and Medicare Part D beneficiaries have access to Tresiba. The prescription volumes of Tresiba are further expected to grow in 2018 driven by favorable access changes in the Medicare Part D formulary.
The above diagram shows the rising share of Tresiba in the basal insulin market in the United States. Tresiba is thus expected to enable Novo Nordisk to compete effectively with other diabetes players such as Merck & Co. (MRK), Eli Lilly (LLY), and GlaxoSmithKline (GSK).
DEVOTE trial
Novo Nordisk originally designed the double-blind DEVOTE trial to compare the cardiovascular safety of Tresiba to a combination of insulin glargine U100 with the standard of care in type 2 diabetes indications. While it was found that there was no significant difference in this aspect between the two therapies, Tresiba proved superior in terms of reducing severe hypoglycemic events in the treated patients.
The post-hoc analysis of the DEVOTE trial also demonstrated that patients who witnessed severe hypoglycemic events faced 2.5 times higher mortality risk during the trial period compared to those who witnessed no such events. The risk was as high as 4.1 times in the first 15 days after the severe hypoglycemic event and 3.1 times in the first 180 days after the event. Novo Nordisk has submitted an application to the Japanese Ministry of Health, Labour and Welfare to update Tresiba's label based on data from the DEVOTE trial.
In the next article, we'll discuss Tresiba's competitive advantage in greater detail.