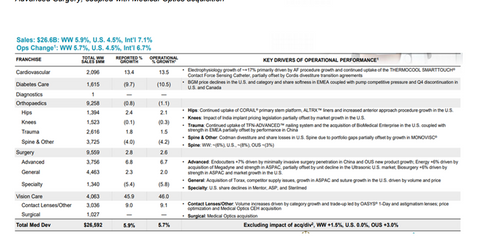 The Recent Bid for Johnson & Johnson's LifeScan Unit
By Sarah Collins

Updated
Johnson & Johnson's Diabetes business performance
Johnson & Johnson's (JNJ) Diabetes business has recently reported debilitating performance amid intense competition from Medtronic (MDT), Dexcom (DXCM), and Insulet (PODD). JNJ's segment is also impacted by pricing pressures in the market.
In 4Q17, Johnson & Johnson registered a sales decline of ~15.6% on a YoY (year-over-year) basis in its Diabetes segment. For fiscal 2017, J&J's Diabetes segment registered a fall of ~10.0% in its sales. 
JNJ's Animas division announced the exit of its Insulin Pump business in October 2017. For details, please read JNJ Exits Insulin Pump Business amid Stiff Competition.
The company had announced its plans to make further divestitures in its ailing Diabetes business during its earnings release announcement on January 23, 2018.
Article continues below advertisement
Platinum Equity's bid for J&J's LifeScan business
On March 16, 2018, Johnson & Johnson (JNJ) announced that it has received a bid of $2.1 billion for its LifeScan unit from the private equity firm Platinum Equity. In January, Reuters reported that several Chinese companies were interested in J&J's LifeScan unit at a value of $3.0 billion–$4.0 billion.
J&J's LifeScan unit manufactures blood glucose monitoring devices and is one of the company's diabetes units along with Animas Corp. and Calibra Medical. Johnson & Johnson noted that LifeScan's products are used by more than 20.0 million people in around 90 countries. In 2017, Lifescan generated sales of $1.5 billion.
The company has until mid-June to make a decision regarding Platinum Equity's offer. If it is accepted, the deal is expected to close by the end of 2018.
On March 16, 2018, JNJ stock registered a decline of ~0.4% during morning trading. However, the stock closed up ~0.4%.