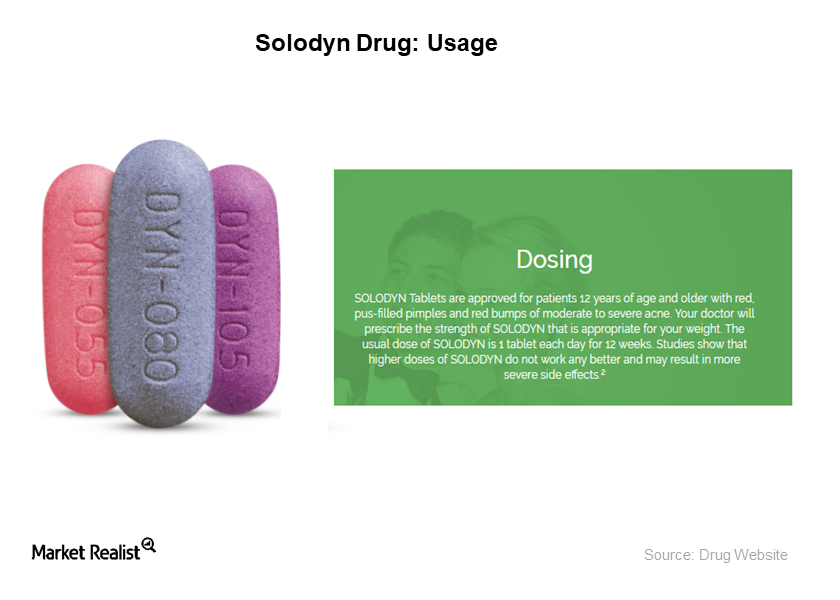 Teva's Recent Launch of Generic Solodyn: What You Need to Know
By Sarah Collins

Mar. 22 2018, Updated 9:01 a.m. ET
Overview
On February 20, 2018, Teva Pharmaceutical (TEVA) announced the US launch of the generic version of Solodyn Extended Release tablets in two strengths: 65 mg and 115 mg. Solodyn tablets are minocycline hydrochloride, a tetracycline-class antibiotic drug used for the treatment of infections and the control of acne. 
Solodyn has an indication for the treatment of inflammatory lesions of moderate to severe acne in patients 12 years and older. The generic version of Solodyn is the ninth generic tetracycline-class drug in Teva's portfolio.
According to IMS data, Solodyn Extended Release 65 mg and 115 mg tablets generated sales of ~$148 million in the United States in 2017.
Article continues below advertisement
Teva has a portfolio of ~600 generic medicines, the largest portfolio of generic products approved by the FDA. It has the leading number of first-to-file generics opportunities in the market. The company is focused on maintaining its leadership position in the generics market with consistent new launches and approvals and R&D (research and development) optimization efforts. For a brief discussion on Teva's R&D strategy, read What's Teva Pharmaceutical's Research and Development Strategy?
Brief details on Solodyn
Medicis Pharmaceutical, a subsidiary of Valent Pharmaceuticals (VRX) that VRX acquired in 2012, develops the anti-acne drug Solodyn, the patent for which is due to expire in 2018. Valeant recently settled lawsuits filed by Medicis seeking to delay the launch of the generic versions of Solodyn for $58 million.
Recently, Impax Laboratories (IPXL) also agreed to pay $35 million to partly settle a lawsuit claiming the company had entered into an anticompetitive deal with Medicis to delay the launch of the generic version of Solodyn. 
According to its claims, Impax received $40 million plus $23 million in milestone payments from Medicis in 2008 to drop a lawsuit seeking the invalidation of the Solodyn patent. It also alleged that it received FDA approval for its generic version of Solodyn in February 2009 but began selling the drug in 2011. Reportedly, Impax announced the launch of an authorized generic version of Solodyn Extended Release 65 mg and 115 mg tablets on February 20, 2018.
Next, let's take a look at how the US generics market consolidation is continuing to affect Teva's performance.