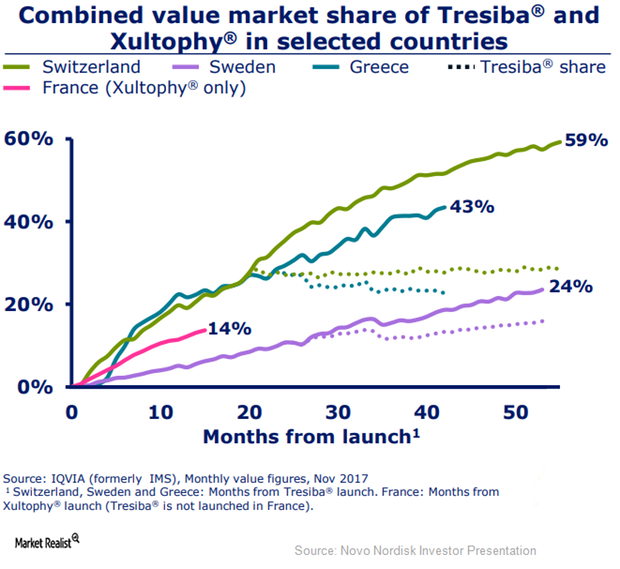 Novo Nordisk Has Developed a Portfolio of New-Generation Insulins
New-generation insulins
Novo Nordisk (NVO) has been creating awareness about the risks of hypoglycemia and the benefits of Tresiba among GPs (general practitioner) and PCPs (primary care physician).
Patients suffering from type 1 diabetes are generally treated by endocrinologists, who focus on factors such as low intra-patient glycemic variability, a flat and stable drug profile, fewer hypoglycemia events, patient convenience, and confidence in the product while prescribing drugs.
Article continues below advertisement
Article continues below advertisement
However, the GPs and PCPs treating type 2 diabetes patients consider factors such as confidence in the product, patient convenience, ease of prescribing, and dosing simplicity while prescribing medications. Because GPs and PCPs don't focus on glycemic variability and hypoglycemia events, Novo Nordisk's efforts to raise awareness are expected to drive the adoption of Tresiba in the type 2 diabetes patient population.
Novo Nordisk aims to capture an increasing market share for its new generation of insulin products while limiting the cannibalization of the market share of its modern insulin product, Levemir. New-generation insulin products are thus expected to enable Novo Nordisk to compete effectively with diabetes players such as GlaxoSmithKline (GSK), Merck & Co. (MRK), and Eli Lilly (LLY).
The above diagram shows Novo Nordisk's share across all segments of the global insulin market.
Ryzodeg's growth trend
Ryzodeg reported sales of close to 492 million Danish kroner in 2017, a YoY (year-over-year) rise of 151% on a reported basis and of 158% in local currencies. The uptake of Ryzodeg, a formulation of 70% insulin degludec and 30% insulin aspart, was mainly driven by increasing demand in Japan and Korea, Africa, Asia, the Middle East, and Oceania. Launched in 18 markets worldwide, it's a combination of basal insulin and mealtime insulin in a single pen.
Ryzodeg has managed to demonstrate significant efficacy in controlling glycemic values. Additionally, the drug has demonstrated a higher ability to reduce the risk of both nocturnal and overall hypoglycemia events compared to NovoMix 30.
In the next article, we'll discuss the growth prospects for Xultophy and Fiasp in greater detail.