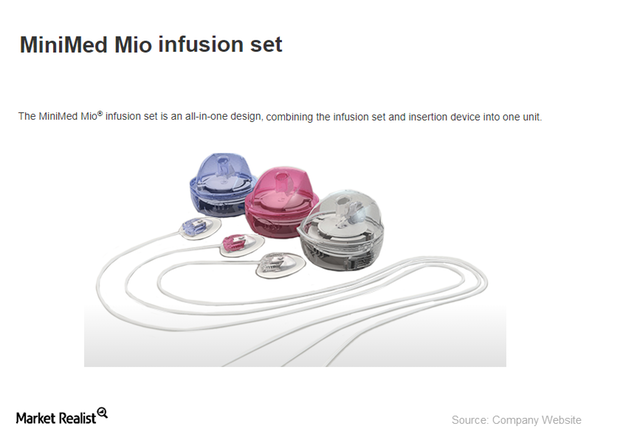 Medtronic Strengthens Diabetes Business with MiniMed Infusion Set
The launch of MiniMed Mio Advance infusion set
On February 21, 2018, Medtronic (MDT) announced the launch of its MiniMed Mio Advance infusion set, the newest addition to its portfolio of MiniMed infusion sets. The device is used for insulin delivery from an insulin pump to a person's body. The company plans to commercially launch the device in Canada, Hong Kong, and select European countries in fiscal 4Q18. In late 2018, Medtronic plans to expand the commercial availability of the device in other geographies around the world.
The device is part of Medtronic's leading MiniMed products portfolio. The previous version, the MiniMed Mio, was launched in 2010.
Article continues below advertisement
Article continues below advertisement
Device features and benefits
The MiniMed Mio Advance infusion set has a user-friendly design and is easy to use. It has fewer steps and enables a simpler, faster set change. The device features a built-in insertion mechanism and a concealed needle. It can be inserted with one hand and offers flexibility to reach hard-to-reach sites such as the lower back.
Initial launch feedback
The device was selectively introduced by Medtronic in certain countries in fiscal 3Q18, which ended in January 2018. More than 200 people tried Medtronic's MiniMed Mio infusion set during that period, and more than 85% of them found the device to be better than the infusion sets they were using previously.
According to Annette Brüls, president of Medtronic's Diabetes Service and Solutions, "Early feedback on the Mio Advance infusion set has been fantastic. Our goal is to continuously improve and innovate on core technologies to help people with diabetes continue to experience greater freedom and better health. We are excited to leverage the MiniMed Mio Advance as a platform for future infusion set innovations."
Abbott Laboratories (ABT) has also been actively expanding its diabetes business. It received FDA approval for its breakthrough continuous glucose monitoring (or CGM) device Freestyle Libre. It also launched a Freestyle Librelink app (application) in Europe in February 2018 for providing a better user experience. DexCom (DXCM) is expected to launch its CGM device by the end of 2018. However, Johnson & Johnson (JNJ) quit its insulin pump business in October 2017 amid intense competition.