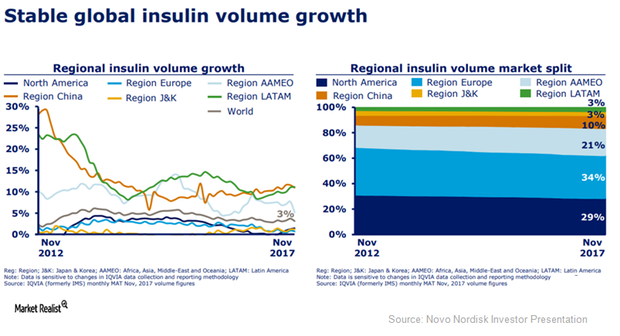 Label Expansion May Boost Xultophy's Sales in 2018
<p>In November 2017, Novo Nordisk (NVO) submitted an application to European regulatory authorities to update Xultophy's label.</p>
Xultophy label expansion
In November 2017, Novo Nordisk (NVO) submitted an application to European regulatory authorities to update Xultophy's label based on cardiovascular outcome data from the DEVOTE and LEADER trials.
In January 2018, the company also completed a Phase 3a trial called DUAL II, which compared the efficacy of Xultophy to that of Tresiba in Japanese patients suffering from type 2 diabetes. After 26 weeks of treatment, Xultophy proved superior to Tresiba, which was capped at 50 insulin units in terms of lowering blood glucose levels.
Article continues below advertisement
Article continues below advertisement
Xultophy also proved superior to Tresiba in causing weight loss in the treated patients. Novo Nordisk anticipates the completion of its Phase 3 DUAL I study in 1Q18. Based on data from the DUAL I and DUAL II trials, Novo Nordisk plans to submit a new drug application seeking Xultophy's approval from the Japanese Ministry of Health, Labour and Welfare in 2H18.
Xultophy is expected to contribute significantly to enabling Novo Nordisk's maintenance of its leadership position in the diabetes segment, ahead of peers such as GlaxoSmithKline (GSK), Merck & Co. (MRK), and Eli Lilly (LLY).
The above diagram shows the growth trends in the global insulin market until the end of November 2017.
Fiasp's growth trend
In September 2017, Novo Nordisk announced the results of its Phase 3b trial called ONSET-5, which highlighted the comparable efficacy of the subcutaneous infusion of mealtime insulin Fiasp with NovoRapid in controlling glycemic values in patients suffering from type 1 diabetes.
Fiasp was launched in the United States in February 2018, and it was commercialized in almost 17 other markets at the end of 2017. In 3Q18, the company plans to file an application seeking approval for Fiasp with regulatory authorities in Japan.