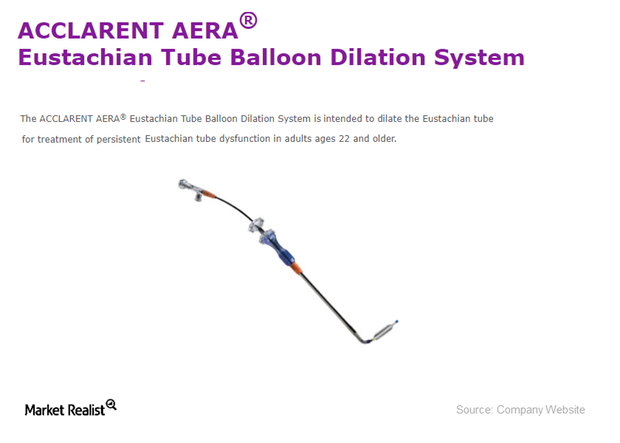 Johnson & Johnson's Acclarent Aera Balloon Dilation System
Acclarent Aera Balloon Dilation System
Johnson & Johnson's (JNJ) subsidiary Acclarent offers solutions for the treatment of ENT (ear, nose, and throat) conditions. Acclarent received FDA approval for its Acclarent Aera Balloon Dilation System for the treatment of ETD (eustachian tube dysfunction) in September 2016. For details, read Inside Johnson & Johnson's Latest US Medical Device Launch. The product is the first and only minimally invasive balloon dilation ETD treatment system available in the United States. Other treatment options focus on relieving the symptoms of ETD.
Article continues below advertisement
Article continues below advertisement
On February 27, 2018, Johnson & Johnson's subsidiary Acclarent announced that the company received FDA approval for the expanded indication for Acclarent Aera. The product can now be used in patients as young as 18 years of age. Previously, the device was approved for use in adults ages 22 and older. In addition, the patient can be treated with Acclarent Aera with local and topical anesthesia compared to the previous requirement for general anesthesia.
Market expansion opportunities
With the expansion in the indication of Acclarent Aera, Johnson & Johnson will be able to provide treatment to a larger patient population. Since the device's US launch in September 2016, it has been used to treat more than 9,000 patients in the United States. Medtronic (MDT), Smith & Nephew (SNN), and Siemens (SIEGY) offer competing treatment options.
The minimally invasive technology with precise positioning and access provides a more efficient and more accurate treatment option for patients.
A recent study reported a success rate of ~99.7% of ETD treatment cases with Acclarent Aera. There were no incidents of adverse events related to the device or procedure. Patients also reported better quality of life after the treatment.