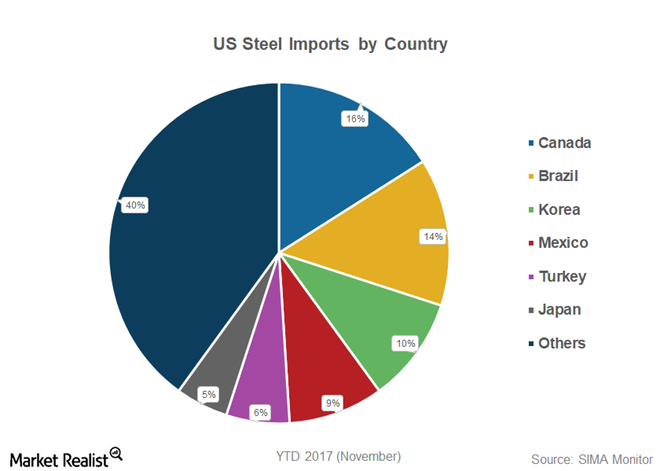 How US Steel Import Tariffs Could Affect Cleveland-Cliffs in 2018
US steel import tariffs
A Section 232 investigation was initiated by the US Commerce Department last year to see whether the influx of steel imports is threatening the nation's security. The department submitted its recommendations for the Section 232 probe into steel and aluminum imports to President Trump in February 2018. Its recommendations focused on several areas including global and country-specific tariffs to broad import quotas.
On March 1, 2018, President Trump announced the imposition of a 25% import tariff on steel and 10% on aluminum to protect US producers.
Article continues below advertisement
Article continues below advertisement
Restoring domestic mills' market share
US steelmakers (SLX) were facing an onslaught of increasing steel imports into the US, which impacted their capacity utilization and pricing power negatively. On multiple occasions, companies such as ArcelorMittal (MT), U.S. Steel (X), and Nucor (NUE) urged the US administration to act on the Section 232 probe and end subsidized steel imports. According to The Times, in a letter written on February 2, 2018, steelmakers stated, "we need strong action that meaningfully adjusts imports and restores healthy levels of capacity utilization and profitability to the domestic industry to ensure we can continue to produce the steel needed for our national security and critical infrastructure."
In the United States, imported steel reached a market share of 27.0% in 2017, higher than the 20.0% most market participants consider normal. Higher imports impact Cleveland-Cliffs (CLF) customers such as AK Steel (AKS), which is negative for Cleveland-Cliffs's realized prices and volumes.
Steeper tariffs and US steelmakers
Action on the US Department of Commerce's recommendations could help US steelmakers regain their lost market share in the domestic steel market, which would also be positive for their pricing power. However, investors should note that companies that buy steel in the United States could be impacted by higher steel prices. General Motors (GM) and Ford Motors (F) fell 1.8% and 1.4%, respectively, on February 16, 2018, after the Department of Commerce recommended tariffs and quotas on imported steel and aluminum.