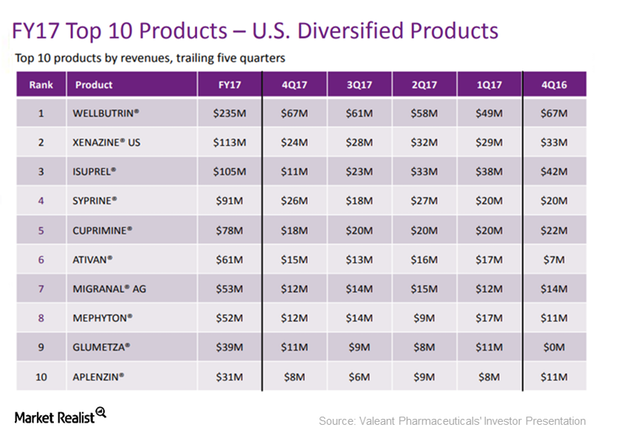 How the Market Reacted to Teva's Pricing of Its Generic Syprine
Teva's launch of its generic version of Syprine
On February 9, 2018, Teva Pharmaceutical (TEVA) announced the US launch of its generic version of 250 mg Syprine capsules. Syprine capsules are trientine hydrochloride tablets, which are used for the treatment of penicillamine-intolerant patients suffering from Willson's disease. Willson's disease is a rare genetic disorder characterized by excessive copper in the body due to the body's incapability to remove it, which can lead to life-threatening organ damage. According to the National Institute of Health, one in 30,000 people in the United States suffer from Willson's disease.
According to IMS data, trientine hydrochloride had generated sales of ~$155 million in the United States annually as of November 2017.
Article continues below advertisement
Article continues below advertisement
Brief details on Syprine's branded version and generic availability
Syprine was invented in the 1960s and is currently the trademark drug developed and marketed by Valeant Pharmaceuticals (VRX). The company priced the drug at $21,000 for 100 pills. It generated ~$91 million through Syprine sales in 2017, as we can see in the chart above.
Valeant acquired Syprine along with another drug, Cuprimine, which is also used for the treatment of Willson's disease, in 2010 on its acquisition of Aton. Aton had acquired these drugs from Merck & Co. (MRK) in 2006. Valeant increased the price of Syprine to $21,000 in 2015 from the cost of $652 for 100 Syprine pills in 2010. However, in 2015, the company was highly scrutinized for its exorbitant drug pricing, and its stock tumbled amid negative market sentiments.
With the launch of the generic version of Syprine by Teva, it's expected that the price of the drug will fall. However, the company has priced the drug at $18,000 for 100 pills, which isn't a big discount on the price of the branded version provided by Valeant. Valeant has also launched its "authorized" generic version of Syprine at a cost of $19,000. Though Teva's pricing of the drug has sparked outrage in the market, investor sentiments haven't been affected to a great extent.
The prices of the generic versions of drugs for rare diseases that don't have multiple generics are often not offered at a high discount to the branded versions. One other such product that has been criticized over high pricing is Mylan's (MYL) Epipen, which is used for the treatment of severe allergies. According to a Teva spokeswoman, "If there is more competition and ample supply, pricing will continue to fall." The company has undergone restructuring after a steep fall in its stock price over the last few years.
Next, let's discuss Teva's launch of the generic version of Solodyn.